Archived News Item
Pakistan: continuing our support when all seems hopeless
November 18, 2009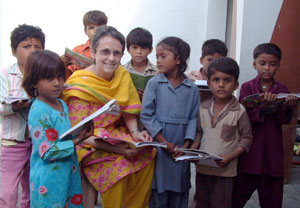 Brisbane Sister of Mercy, Margaret Madden, has been working in Pakistan for 15 years. She is Director of the Notre Dame Institute of Education (NDIE), a teacher education facility in Karachi. Margaret recently spoke to Stephanie Thomas about life in Pakistan, why she stays in such a volatile environment, and how education initiatives are critical for the country's development.
With a population over 21 million, Karachi is the largest and most populous city in Pakistan. It's often described as a "mini Pakistan" because of its broad mix of ethnic, religious and political groups. It's also a dangerous place to live, especially for minority groups such as Pashtuns, Balochis, Christians, Hindus, Parsis and Buddhists.
"All of Pakistan would be present here in Karachi, its best and its worst," says Margaret.
"It's a big sprawling city. No one would really know who was here. There are lots of Jihadist movements, political parties and Taliban cells."
Since the recent escalation of terrorism and ethnic violence throughout the country, Margaret has noticed an increased level of fear and conservatism among people in Karachi.
The frequent failure of basic community services like water, sewerage and electricity has affected domestic and commercial life profoundly. People's frustration levels are high and riots are common. Despite the resilience of Pakistanis, Margaret says the daily pressure of life is taking its toll on them.
"They've lost their livelihoods, they've lost everything, and despite the aid that comes in, it never really covers what people need."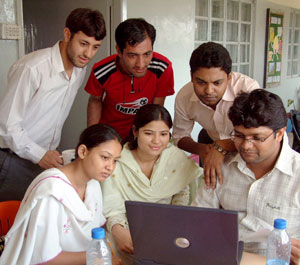 This political, social and economic volatility has affected life at NDIE too. There are times when students and staff find it difficult to complete work or even attend the Institute.
"There is a level of uncertainty," says Margaret, "and yet within that we all try to live a normal pattern of daily life. We've got our plans in place. You've got to hold on to some level of hope even though you're almost living your own paradox."
Pakistan is a perilous place for western Christian women, so why does Margaret stay?
"Pakistan is a distressed and unstable country and it's had a troubled history. While roots of terrorism are found in the country, that's not all the people," she explains.
"There's this mass of people who are simply fighting for survival and that's what keeps you here."
She continues: "If we all pull out and leave people, their situation's just going to get worse… People have to be shown that they're of value and that their present and future is of great worth. If we believe in the dignity of each person then we can't just label them as terrorists and ignore them."
Margaret is adamant that education is central to creating positive change in Pakistan. "You're not going to root out violence by violence, but through more constructive means. And education is basic to that."
She believes that NDIE is a model for how the country could operate. Students come from all over Pakistan and from different ethnic and religious groups. Margaret says the atmosphere created at NDIE enables them to work together closely and harmoniously.
"If we're doing this for the teachers, then the hope and the belief is that they can do something in their schools; that perhaps the next generation of Pakistanis will become more tolerant."
Mercy Works Inc. is supporting the development of NDIE's library as well as community schools in the slum areas of Baldia Town, Karachi and Mughalabad, Rawalpindi.