Archived News Item
Padua College Honours Trailblazing Sisters
June 28, 2019
A group of fifteen sisters have toured a new building at Padua College, Mornington, named in honour of two trailblazing sisters.
The Whyte Senior Learning Centre acknowledges the commitment and work achieved by the foundress of the College, Reverend Mother Sebastian Whyte and her biological sister, Mother Bernard Whyte who was the first Principal in charge of the Mornington campus.  These two Sisters were truly brave and pioneering women, purchasing property and setting up schools with little more than faith and hard work.
Over the years, hundreds of sisters and partners in Mercy have carried on their legacy, meaning that some 120 years later, at Padua College, there are currently over 2,500 students and over 300 staff across three campuses.
The College is undergoing a significant re-structure to better meet the future educational challenges and needs of its students.  The first step in this re-structure is the opening of the new Whyte Centre to accommodate the Year 10-12 Senior Program.
The new building contains a 260-seat lecture theatre, 18 new classrooms, an exam room, seminar spaces, senior school reception, staff offices and word areas, amenities and has an overhead link to the existing administration building.
A feature of the new building is a sculpture that depicts the Whyte sisters pondering over the first plans of the school and offering hospitality rendered in cups of tea placed in front of them.
In addition to touring the building, the sisters also engaged with the staff and students in a liturgy and over lunch.
This was a great opportunity for the College community to spend some time exploring the Mercy charism with the sisters.
The sisters' visit, on Wednesday June 5, follows the blessing and opening by Archbishop of Melbourne, Most Reverend Peter Comensoli on Wednesday April 30.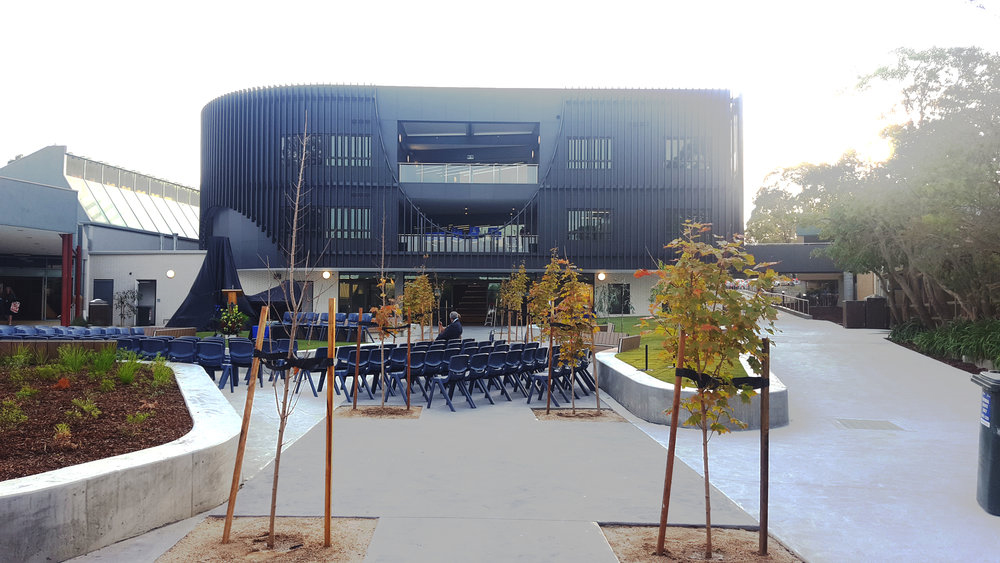 Messages to:  Ange Virgona
CLICK HERE TO RETURN TO JUST MERCY