Archived News Item
Overseas sisters visit Catherine McAuley Westmead
June 25, 2008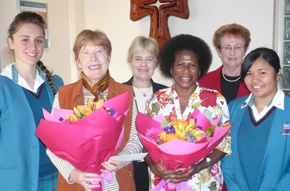 Students and staff at Catherine McAuley Westmead had the opportunity to hear about the overseas experiences of two Sisters of Mercy this month. Jacqui Hamilton, School Development Officer at Catherine McAuley Westmead, reports.
Students and staff at Catherine McAuley Westmead were honoured to have two visiting Sisters of Mercy from Papua New Guinea (PNG) and Ireland address their school assembly this month. Sister Angie Singiaut, an indigenous sister from Papua New Guinea, and Sister Claire Walshe, an Irish Sister of Mercy, both shared stories of their Mercy ministry in PNG and South Africa.
Sister Angie, who is from PNG's East Sepik Province, told the girls a little of her personal story and journey to becoming a Sister of Mercy. Angie values the opportunity she had to be educated which led her to becoming a teacher and later, Principal at Mercy College, Yarapos.
Sister Claire, who is from Tipperary, Ireland, has been working in South Africa for the past 21 years and spoke about her work and ministry among the people of that country whose lives have been devastated by the HIV-AIDS virus.
Following the presentations, the students were addressed by Sister Helen Law, Family Liaison Facilitator at Catherine McAuley, who spoke about the school's new fundraising effort which is to raise money for 'child headed families', a new phenomena in South Africa as a result of the HIV-AIDS pandemic of recent years.
These families have lost their primary care-giver and, as a result, the oldest child has become the head of the household, seeing to the needs of siblings while struggling to continue with education, managing finances, food and shelter, as well as the health care of their brothers and sisters.
Catherine McAuley Westmead will fund raise this year to assist these families associated with the Mercy Health Centre in Winterveld, South Africa.
Photo caption: Visiting Sisters of Mercy Sister Claire Walshe and Sister Angie Singiaut spoke to students of Catherine McAuley this month where they shared their stories of their Mercy ministry. Here they are with student Social Justice Leaders Marina Tannous and Jenny Sobrevega and Principal Ms Margery Jackman (back left) and Sister Helen Law, Family Liaison Facilitator (back right).
From: Jacqui Hamilton (School Development Officer, Catherine McAuley Westmead)