Archived News Item
Over Four Centuries and Not Out!
February 22, 2011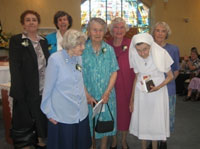 The 165th Anniversary of the coming of the Sisters of Mercy to Australian shores at Fremantle in 1846 was remembered in a special way on Sunday, 6th February with a big gathering of Sisters of Mercy and the families and friends of seven Sisters who were celebrating Jubilees. Those celebrating a Diamond Jubilee were Sisters M Casimir Keating, Marie Walker, Marcella Blake, M Laboure Hasson, M Miriam Kearney and Ellen O'Neill. Sister Pauline Masters celebrated her Golden Jubilee. All in all there are contained here over 410 years of Mercy life and service to many communities in Western Australia and beyond.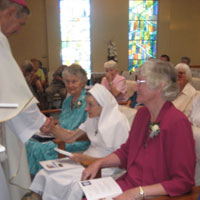 Sister M Casimir was born in Kalgoorlie and, when her family moved to Perth, she attended the Convent school at Victoria Square. When Santa Maria Boarding School opened in 1936, the upper school teachers were transferred there. As an upper-school student, she transferred to Santa Maria and became the first Head Girl of that College. After leaving school, she graduated as a teacher from Claremont Teachers' College and took up positions in the Government School system until transferring to St Joseph's at Victoria Square where she studied and became a Maths and Science Secondary School teacher. While there, the long held idea of becoming a Sister of Mercy became a firm conviction ["in the end I knew that the Lord wanted me] .and she entered the Convent at Victoria Square. She says with a twinkle in her eye : "I have great gratitude to God for the great grace of my vocation. It is only by the grace of God that I am here. I take each day as it comes and I believe if I live each day properly all will be well."
Sister Marie Walker was born in Albany. After attending Primary School there she was awarded a Scholarship to the State High School in Albany. On leaving school she worked in a clerical position until joining the Royal Australian Air Force during the War and was stationed in Townsville for two and a half years. Fortunately for her and the rest of the crew based there, they had just missed a major cyclone and did not see another. From her childhood, Marie had the desire to become a nun. She first thought of joining the Carmelites but, on the advice of Monsignor Moss, entered the Sisters of Mercy at Victoria Square.
Marie was trained as a teacher and for many years taught in Primary Schools in country and metropolitan schools. She also spent many years in Motor Mission ministry in the South-west and Bunbury diocese.
Sister Miriam Kearney was born in Derry, Ireland and attended the Swatragh village school. She was employed in house duties before working at an aircraft factory during the war. As a teenager she thought about becoming a Sister and, in 1948, joined the group setting off for Australia. One of her travelling companions remarked that Miriam 'had been in a very good position with good earnings and was a very stylish young woman'. Miriam's tasty cooking has been a welcome ministry in many Convents including Norseman She likes the W.A. climate and loves spending time in the Mercy Chapel.
Sister Ellen O'Neill was born in Dungannon, County Tyrone, Ireland. Since she was a small child Ellen knew about the Sisters of Mercy and says she always had the inkling to become a Sister. When she saw the advertisement in the local newspaper seeking postulants to go to Australia, she met Mother Brigid McDonald and responded. Together with Mother Brigid, Sister Eugenius and several companions wanting to join the Convent, they left Tilbury Docks on ss.Strathaird in 1948.
Ellen trained as a teacher at Victoria Square and later attended the Secondary Teachers' College and University of W.A. She taught mostly in Secondary Schools throughout Western Australia including Coolgardie, Kalgoorlie, Bunbury, Santa Maria and Mercedes. . Ellen says she enjoyed teaching so many beautiful people and has had a wonderfully happy life as a Sister of Mercy.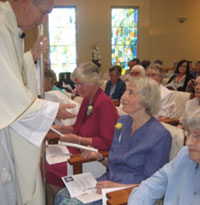 Sr M Laboure Hasson was born County Derry, N. Ireland. After attending the village school she worked in the office of the IOF (Ireland's Own Football) for about three years. During Mother Brigid's visit to Derry her cousin, Betty, took her along to meet the visiting Sisters from Australia. She feels "the Lord was intervening" as she talked about joining the Order with her friends. All decided to go to Australia and set sail on the ss Strathaird with the excited group of .adventurous girls and young women She enjoyed the trip and tells about some of the activities they enjoyed especially after their chaperones had retired for the night: walking around the decks, enjoying the sea breeze, watching the stars and and, meeting Irish and English people coming out to live in Australia. After her novitiate Mary Laboure worked at St Anne's Hospital in the wards and the office. She still lives near the Hospital which is now known as Mercy Hospital, Mt Lawley.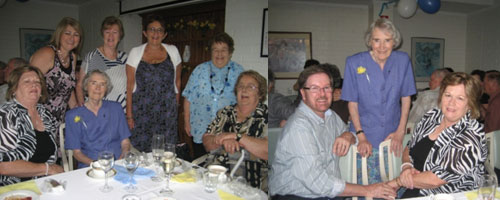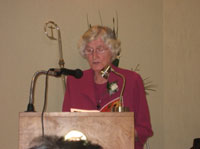 Sister Marcella Blake was born in Killard, County Clare. After primary school she attended St Brigid's Missionary School. Two older sisters, M Regina and M Thecla from this very mission-minded family had already entered the Sisters of Mercy in Australia so she was very happy to join the group travelling to Australia and be with them again. Marcella has taught both Primary and Secondary students at Harvey, Bunbury, metropolitan schools, Santa Maria College and Lumen Christi Catholic Secondary School. She has a love for History and writes poetry based on her spirituality. Marcella sees her call to become a Sister has been a very positive and challenging one. She says : " I have come to enjoy and reverence the differences in people. I admire the quality of goodness and mercy of so many people in my life."
Other Sisters in this group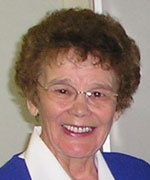 Sister Elizabeth Devine was also one of the group professed in 1951. She taught in many schools throughout Western Australia, served as a missionary in Papua-New Guinea. Elizabeth was Congregation Leader for six years and facilitated Religious and Spirituality programmes before returning to her native land in 2001. She is now part of the Northern Province of Ireland.
Also remembered are two Sisters who did not quite reach the 60th Anniversary :
Sr Cabrini Fontana who died 28 June 2010 is remembered especially for her great work among the Italian Community both in Bunbury and Harvey. She was born at Cannington, W.A., won a Scholarship to Our Lady's College, Victoria Square, She was a teacher and also a great researcher. She produced many articles of historical importance and a booklet chronicling the story of Mercy in the South West. Cabrini had an enthusiastic personality and was always involved in living a full and interesting life, helping others wherever she could.
Sister M Bosco Costello who died on 17 October 2010 was also part of the group from Ireland. She became a nurse at St Anne's Hospital for most of her life and was dearly loved by those with whom she lived and worked with for almost every one of those 60 years.
Early death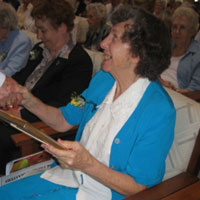 One of the original group, Betty Grant, became Sister M Roch. She was a much loved companion full of life and fun who became very ill and died aged 20 years. She was professed on her death bed at St Anne's Hospital in January 1950.
Sister Pauline Masters celebrated her Golden Jubilee. She was born in Perth and attended School at St Columba's, South Perth. The family moved to Redcliffe and, when the Marist Fathers came to the parish, she helped set up a network with the youth in the area. Pauline worked with a legal firm until she entered the Convent at Victoria Square. After many years teaching in primary schools in the South west, the goldfields and metropolitan area, she took up the invitation to work in Papua New Guinea in Teacher Training Colleges in Mt. Hagen and Wewak. On return to Perth Pauline became an ESL teacher at Mercy College, followed by Chaplaincy at Curtin and Edith Cowan Universities. After a period as a pastoral worker in Donnybrook, Pauline returned to Papua New Guinea for one year. Her missionary leanings took her to Kenya in 2006 and East Timor in 2008. "I have been very blessed by God and, even though there have ups and downs, I have always had a deep gratitude in my heart for all that I have received throughout my religious life."