Archived News Item
OVER 100 YEARS OF MERCY LIFE
August 7, 2015

Veronica Minnage, Bonnie, or Sr Mary Denise (Denny) as we know and love her, was born to Agnes and Patrick Minnage, in Ipswich, Queensland, on the 4th June 1912. She had two older brothers, Lawrence and Thomas and a younger brother Bart. She never knew her brother Thomas because sadly he died in tragic circumstances when he was only about 18 months old. She grew up on their cattle property "Wallabella" in the district of Wallumbilla. The nearest town then was Yuelba which was on the last route travelled by the Cobb and Co. mail coach. Today it on is the Warrego highway.
The experience and memory of her childhood on the property in company with her little brother Bart became like the sap of the trees which grew on their land. It flowed deep and strong within her and her face would become animated if you got her to tell you about it. When ill health forced her brother Bart to sell the property they had owned for 91 years, Sr. Marie Geddes took Sr. M. Denise back to spend some time with the family to allow them to say their goodbyes together. Sr M Denise was deeply touched by Marie's kindness and often spoke about it. Her dear friends the Kellys were present for her funeral and brought with them some soil from her beloved Wallabella so that once again she can feel its warmth as she is laid to rest.
At first she and her brother Bart were taught by her mother on the station. She described herself as a "determined little minx" who was her father's favourite. The property was run mainly with cattle, Herefords with white faces and also some sheep. She and her brother Bart had their own brand and whenever twin or roan coloured calves were born they were branded for Bonnie and Bart. At the tender age of seven half/ eight she was sent to boarding school. At Roma and Stanthorpe she was a student of the Brisbane Sisters of Mercy one of whom, Sr. M. Anselm, was the great aunt of Sr Mary Peters and Fr. Michael Peters, who presided at her funeral liturgy. She remembers how indignant she was when on arriving at school she was at first put into the babies' class. However, her mother must have down a splendid teaching job because by the end of the week Denise had been promoted to grade three which is where she should have been!
As well as the usual subjects, she learnt music, studying piano and violin, and later the art of speech. She vividly remembered the delivery of her first violin which was half size. She obtained her LTCL Diploma from Trinity College and AMEB obtaining the highest pass in Queensland for her second grade examination in Violin. At age fourteen while she was still at school, her beloved father died. One can only imagine the pain the loss of her father caused her.
On completing her education she returned home to the property for some years. It was on a holiday in North Queensland that she first came into contact with the Townsville Sisters of Mercy. Her cousin Beryl Shine was boarding at St Patrick's College and while Denise was here in Townsville she used to visit Beryl and take her on outings. This is how she met Mother Agnes. Denise was already thinking about joining the Brisbane Mercies and told Mother Agnes about this. One day after accompanying Beryl back to the College after an outing, Mother Agnes was standing in front of the boarding school talking with Bishop Maguire, the Townsville Bishop of the time. She introduced Denise to the Bishop and told him that Denise was thinking of entering with the Brisbane Mercies. The Bishop told Denise to make an appointment to see him on the following Monday at 10 a.m.
Although not very keen about this Denise decided to attend the appointment but was inwardly resolved not to be swayed by anything the Bishop had to say. However, Bishop Maguire was so eloquent and persuasive in his description of how infinitely more needy the dioceses of Townsville and its Sisters and people were that she was won over. She reasoned that she was already going to feel the parting from her family and she might as well make the greater sacrifice and come to Townsville –a decision we Townsville Sisters and its people have deeply appreciated.
After spending Christmas with her beloved mother and family she travelled to Townsville and entered the Sisters of Mercy on January 23rd. 1934. She became part of a set of three sisters who were received and professed together. The other two were Sr. Mary Collette Desmond and Sr. Mary Anne Chester. They were Finally Professed on the 11th August 1939.
Her first teaching assignment was at Rosario Kindergarten where she taught the little ones with Sr. Mary Paschal who was also a young sister so they had a lot of fun. Then she began her music teaching career. She taught in South Townsville, then Belgian Gardens. Here as well as teaching music before and after school and at lunch break, she had two classes. In her grade three class she taught a little girl who later became Sr. M. Annette Lowth. Further Music teaching assignments followed at St. Patrick's College, Ingham, Ravenswood, Bowen and then back to St. Patrick's College again.
Denise had always wanted to be a nurse and when the Sisters purchased the Lister Hospital in 1945 the way opened for her to do this. In 1952 she was sent to do her General Nurse training at the Brisbane Mater. On her return to Townsville she was put in charge of the Operating Theatres. If you will pardon the pun the Hospital was literally only a stone's throw from the local quarry so on a regular basis the operating room roof would be showered with stones from the blasting!
Later she obtained her certificate in Obstetric Nursing from the Sydney Mater and then her Nursing Education Diploma at the Brisbane Branch of the Australian College of Nursing. For many years, as well as running the Theatres, she conducted the nurse education program. During this time Denise was also the Booking Sister and frequently added to her responsibilities the entire management of the hospital, stepping in when the "Matron" was ill or on holidays. Her students remember her often being called away, literally mid sentence in one of her lectures, to deal with some emergency or other in the hospital. Many of the women who nursed with her in the early days or who passed through her hands here as students, have remained life- long friends. Three of us, Sr Catherine Cuddihy, Sr Wendy Piggott and I were among those who accompanied her during her last hours.
On "retiring" from teaching she took up voluntary pastoral care work in the hospital. Her long nursing experience in the hospital meant that she knew first-hand how important a listening ear and a compassionate heart was to those facing the unknown territory of illness and perhaps death so this was a natural progression for her.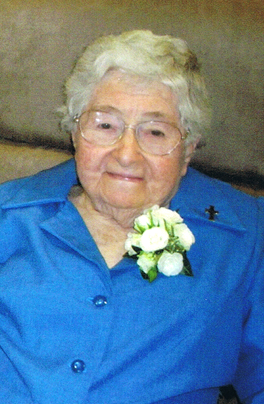 Having been brave enough to leave her home to come to North Queensland she was never one to shy from a challenge, so when the Sisters in Rockhampton were looking for someone who would form a community with one of their own sisters in the mining town of Mt Morgan, Denise volunteered her services.
Later she joined Srs Carmel King and Bernadette Hilliard to live in a community with a group of elderly lay women at Hatchett Street and when the sisters built the set of Units in Ahearne Street, Denise was the first to put up her hand to take up residence in the single unit where she happily looked after herself and tended her beloved garden until failing health advised that she move to McAuley House where more immediate care was available if she needed it.
Till the very last she took a keen interest in all things involving the Congregation and only missed an event if her health prevented her attendance. Her lifetime love of music remained deep. She listened to her large collection of CDs especially her beloved Mozart and Beethoven and even though she wrestled with increasing deafness, listened with a critically appreciative ear to any performance, whether it was in the local church or on the concert stage. She looked forward to enjoying the Chamber Music Festival Concerts held in Townsville each year. I had already given her this year's program and she had chosen the Concerts she wished to attend.
Denise loved to cook and she spent time indulging her love of gardening, although in more recent times it was with a little help from her friend Gail Cooper. She undertook a sewing course with Catherine Cuddihy in her late seventies and began making her own clothing. She produced beautiful crocheted rugs, one of which I have used in the focal point. She kept in touch with family and friend through correspondence and by phone. She really reveled in the celebrations for her 100th birthday and proudly displayed her message from the Queen. She was deeply touched by the gathering of her past nursing students to mark the occasion organized by former student Kathy Crane.
There was no doubt that the last few years of her life were difficult for her. The little woman who was so used to whizzing around did not take kindly to the restraints forced upon her by increasing frailty. She knew and acknowledged that everyone around her, Sr Bev Hickson, Gail Cooper, her Sisters, Julie Bullen and the Nursing staff at Loreto and Drs. Gavin Matthews and David and Wendy Thoreau, were doing their best to ensure that she maintained her independence as much as possible, but it remained a challenge for her.
No doubt each of us will have our own memories of Bonnie, Sr M Denise," Denny", as we gather here this morning to make our farewells. She brought a great passion and energy to whatever she did and remained 'that determined little minx' to the very end. I believe we who loved her were grateful to the compassionate God she strove to love and serve for over eighty years in religious life.
Our faith reassures us all that even now, she is enjoying the company of her God and the beloved family members and friends who went before her and whom she missed so much. Rest in peace dear Sr Mary Denise.
Messages to Carmel King rsm