Archived News Item
Outstanding effort from St Aloysius College North Melbourne staff
June 3, 2010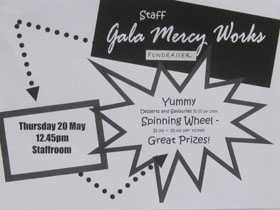 Cathy Solano RSM, Mercy Works Inc. Community Education Officer, reports on a very successful fundraising event organised by staff at St Aloysius College in North Melbourne, Victoria. Cathy says almost $1000 was raised for projects supported by Mercy Works Inc. in one lunch time event. This is an outstanding effort!
Almost $1,000 was raised for Mercy Works Inc. during one lunch time at St Aloysius College in North Melbourne. Catherine Charlton and Lisa Del Din organised the "Staff Gala Mercy Works Fundraiser" held on Thursday May 20. Platters of food and raffle prizes were the attractions, generously donated by the school administration and several staff members.
A special home-made 'heritage' spinning wheel was brought in despite the fact that everyone knew it favoured certain numbers! One of the $5 raffles included the prize of a weekend for up to seven people at the school's Torquay outdoor education campus. This was won by Sue, a retired teacher. Meanwhile, Camille Bradley jumped for joy when she won the prize of "a day off teaching", immediately nominating her 'six-period-on-day' that has three double lessons of physical education!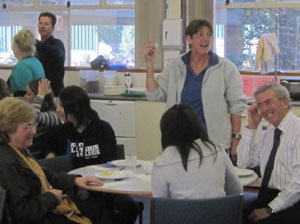 Another coveted prize was the "morning tea for two" catered by Lynne Gazel, one of the gifted master-chefs on staff.
Despite the frenzied food grab at the start of lunchtime there were plenty of left-overs to be enjoyed at the end of the afternoon.
This event is part of a new policy on fundraising being implemented by staff at St Aloysius College.
"This is our effort to raise consciousness in our community of what it really means to be a Mercy school and how to create real ways of being connected to the works of the Sisters of Mercy of Australia," explains Deputy Principal, Anne Henderson.
Anne says: "The realisation that some of our past efforts have not had much meaning for students and that there is only so much that we can do helped us decide to focus our energies on the mission and vision of our mercy charism."