Archived News Item
Sisters farewelled from Bowen
June 30, 2017
Earlier this week a heartfelt celebration was held marking the end of the Sisters of Mercy's ministry and residence in Bowen, North Queensland.
Seven Sisters travelled to Bowen on Wednesday, June 27 to join with Bowen parishioners to farewell the last Sister of Mercy in Bowen, Carmel Arnold rsm, who is moving to McAuley House in Townsville.
The celebrations began with a mass, at which Bishop Tim Harris presided. It was followed by a meal in the school covered area.
Carmel Ruddick rsm, on behalf of the Community Leader Helen White and the Institute, thanked Carmel Arnold for the extraordinary works of ministry she has undertaken in the Bowen community over the past 21 years.
"We will treasure the love and care you have shown to Sister Carmel and also to Sister Leo. Carmel has loved you, and you most certainly have loved her in return, and will miss her dearly. Thank you Carmel for all you have been and done for this beautiful part of God's world. We stand with you today, as we know you greatly mourn the fact that you must now leave." Sr Ruddick said.
Sr Ruddick said as an Institute, with sadness in our hearts, it is time to say goodbye to Bowen.
"Thankyou one and all for your presence here at this special gathering, and let me assure you and your families again that you will always remain deep in our hearts. When the first Sisters of Mercy arrived here well over 130 years ago, Catherine McAuley would have said: "Hurrah for foundations – makes the old young, and the young merry". Today I believe she would say: "If we are humble and sincere, God will finish in us the work He has begun". Thankyou and God bless".
Following speeches by Sr Ruddick and local parishioners, students from St Mary's School sang the Suscipe of Catherine McAuley, giving thanks to Sr Carmel Arnold and all of the Sisters who have been part of the Bowen Community over the past 130 years.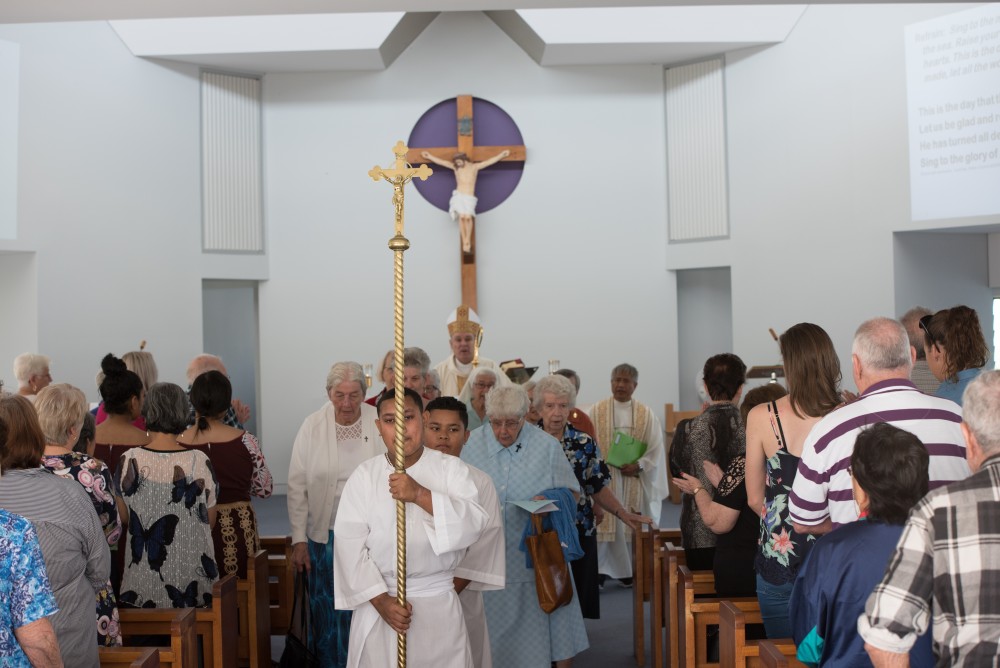 Message to: Helen White rsm, Community Leader, North
CLICK HERE TO RETURN TO JUST MERCY 
30 June 2017.
(Photos courtesy of the Catholic Diocese of Townsville).