Archived News Item
Our communities are at breaking point
May 14, 2012
Dhalulu Ganambarr-Stubbs: "I have a message for you from my people. Today in 2012 the aboriginal people of the NT are suffering. In 2007 the Australian government launched the NT Intervention to try and help us. Without any consultation… our council and community services were shut down. We were made to feel like criminals… What do we see? After millions of dollars were spent by the government, the policy has failed…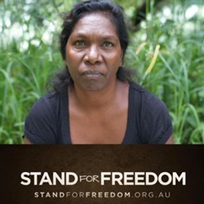 The government proposed the Stronger Futures legislation for the N.T. and the Report from the Senate Committee is to be released 13 March. However, on Monday 27 February, while the nation and politicians focused on the leadership question, the legislation was passed in the Lower House. Why didn't politicians wait for the Senate Committee Report and what does this say about the value of those involved in the consultation?
"The only hope for Aboriginal people in the Northern Territory is that the Senate will retain some integrity when the Bills eventually come before it." Michele Harris OAM
Urgent Action Needed
If you are concerned about the human rights of Aboriginal and Torres Strait Islander people, please contact Senators via the link on the Parliament website: http://aph.gov.au/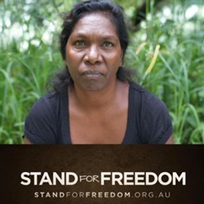 Our communities are at breaking point
What is your response to the message from the school teacher in the Northern Territory?
Listen to Dhalulu Ganambarr-Stubbs http://standforfreedom.org.au/
Dhalulu: "I have a message for you from my people. Today in 2012 the aboriginal people of the NT are suffering. In 2007 the Australian government launched the NT Intervention to try and help us. Without any consultation… our council and community services were shut down. We were made to feel like criminals… What do we see? After millions of dollars were spent by the government, the policy has failed… school attendance has dropped, houses are still overcrowded, cases of self harm and suicide have doubled… Our communities are at breaking point. Both sides of government have recognised that the top down approach of the Intervention was wrong. The United Nations has even condemned it as a breach on international law… overtly discriminate.. infringe rights… stigmatise already stigmatised communities. The emergency response is incompatible with Australia's obligations."
Take Action
Sign the Petition http://standforfreedom.org.au/
View Our Generation http://www.ourgeneration.org.au/
Read
Is everyone equal in the eyes of the law? Greg Barns, National President of the Australian Lawyers Alliance
http://m.abc.net.au/browse?page=11144&articleid=3855768&cat=Indigenous
Democracy in Tatters, Michele Harris OAM http://www.onlineopinion.com.au/view.asp?article=13309
"This unsavoury process shows just how little Government cares about the views of Aboriginal people or about working in partnership with NT Aboriginal leaders. Overall, the loss is far greater. It is a loss of democratic processes that will further reduce trust in Government. This is an incident that we will be able to look back upon for many years, where a government openly betrays Aboriginal people by calling for their evidence and then decides not to consider it because they don't like what they will hear."
Carmel Heagerty, Institute Justice Co-ordinator, Institute.Justice@mercy.org.au