Archived News Item
Opening of Grafton archives and heritage room
October 19, 2009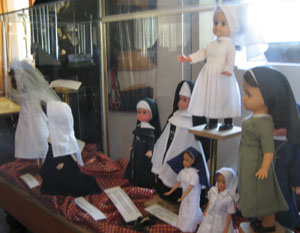 On September 26, in this the 125th year since the Sisters of Mercy arrived in Grafton, NSW, from Bermondsey in London, the new archives and heritage room of the Grafton Congregation was officially opened. Colleen Rhodes RSM (Local Communications Facilitator, Grafton) reports on the event which involved the broader Grafton community.
The City of Grafton and the Sisters of Mercy, Grafton, are both celebrating their histories this year – 150 years since the proclamation of the city in 1859, and 125 years since the sisters arrived from Bermondsey, London in 1884. Their contribution to the life of Grafton and surrounding districts has been remarkable.
When, on September 26, the archives of the Sisters of Mercy were officially opened, the public were invited to visit and discover the wealth of historical material in the archives and the heritage room.
Clarence Valley Mayor, Richie Williamson, Janelle Saffin, Member for Page, Steve Cansdell, Member for Clarence, Grafton's Sesqui-Centenary Committee Chair, Shirley Adams, Clarence River Historical Society members, ex-students and friends from around the Northern Rivers gathered at Grafton Convent for the official ceremonies.
Bundjalung woman, Jenni Williams, did the Welcome to Country, and Mayor Williamson, Shirley Adams and Barbara Bolster RSM, Congregation Leader, spoke to the assembled guests. Once the archives were declared open, Mercy associates led guests around the displays.
Morning tea and tours happened at the same time; this ensured that neither the dining room nor the display rooms were too crowded!
Some guests decided to come back at another time when they could do a more leisurely tour. Judith Weiley RSM, the archivist, is delighted that this is now possible. Hours and hours of hard work went into preparations for the opening and much is still to be done.
Thanks to generous volunteers from among our Mercy associates, Judith will have ongoing help in keeping the displays up to date and preserving significant historical and cultural material for the future.
Download Barbara Bolster's RSM speech here.
From: Colleen Rhodes RSM (Local Communications Facilitator, Grafton)