Archived News Item
OPEN DAY IN CANBERRA
March 13, 2016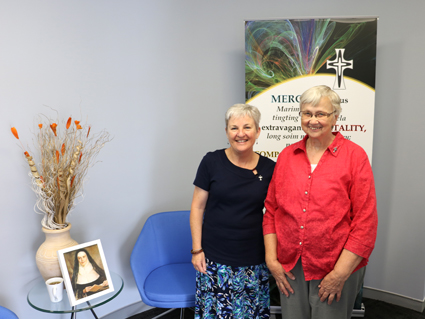 On Thursday March 10, an open day was held at the new office in Canberra for the Institute's Central A Community. Approximately 40 Sisters and staff joined with Community Leader, Sr Shirley Garland RSM and Institute Councillor, Sr Sally Bradley RSM in a prayer service that was followed by afternoon tea at the new office, located in Townshend St, Phillip ACT. (Pictured: Sally Bradley rsm (left) and Shirley Garland rsm)
As part of the prayer service, Sr Elizabeth Rothe RSM called on God's blessing and said, "Jesus showed us the dignity of labour, he was known as the carpenter's son, and he willingly worked with the tools of his trade. Through the labour of our hands, we bring God's blessing upon ourselves and others. Let us pray for all who will work here and for those who will share the fruit of their labour".
The new centre features an office for the Community Leader, offices for support staff and several gathering spaces. It replaces the former office in the Canberra suburb of Kambah.
The Central A Community includes Albury, Griffith, Cootamundra, Young, Forbes, Parkes, Trundle, Dubbo, Wilcannia, Cobar, Wellington, Orange, Mudgee, Bathurst, Lithgow, Goulburn, Canberra and Yass.
Messages to: Shirley Garland rsm