Archived News Item
One earth, one climate, one chance
August 6, 2008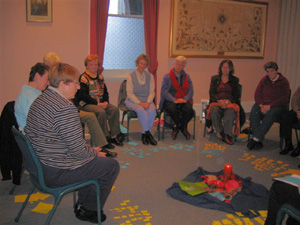 A group of Parramatta Sisters of Mercy and friends recently gathered for a day of reflection with Adelaide Sister Margie Abbott. "Margie's expertise led us through the day with sensitivity, good humour and beautiful imagery," says Sister Marg Hinchey (Parramatta). "Her passion for the earth, joy in life and deep spirituality were so evident."
On Saturday August 26, 2008 a group of Parramatta Mercies and friends met to share a day with Sister Margie Abbott RSM (Adelaide) entitled "Tenderness Towards Self and Earth!"
It was a great day incorporating input, reflection, ritual and action. Margie's expertise led us through the day with sensitivity, good humour and beautiful imagery. Her passion for the earth, joy in life and deep spirituality were so evident.
While the reality of the dire situation facing our planet was presented, she did so in a way that helped us to reflect quietly on its spiritual and moral implications and gently to take up the challenge to do our part, no matter how seemingly small, to reverse the damage to our beautiful garden planet.
We can highly recommend Margie's process to any community wanting such a day.
From: Sister Marg Hinchey RSM (Parramatta)