Archived News Item
NSW Mercy convent celebrating 100 years
July 2, 2009
Saturday August 8, 2009 will mark the centenary of the opening of Singleton Mercy Convent in the NSW Hunter Valley. In the latest edition of Aurora, Sister Monica Sinclair RSM, Co-ordinator of the Sacred Spaces Project in Singleton, reflects on a photo taken at the opening of the convent in 1909 that reveals much about the event and the era.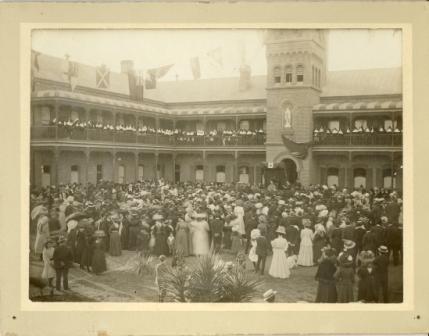 A PICTURE THAT TELLS MANY STORIES – This wonderful photo, taken by an unknown photographer, has captured a moment in time, a diocesan event whose centenary is to be celebrated on August 8 this year.
It was a day that had been long anticipated – to finally declare open their "motherhouse" convent – 17 years in the building! – and to have it blessed by Cardinal Moran in a grand public ceremony.
Many minds and hearts had been engaged in its planning and construction: Bishop James Murray, who had invited the sisters to Singleton; Mother Mary Stanislaus Kenny, leader of the group of ten who arrived from Ennis in 1875; Monsignor Peter Meagher, parish priest since 1893 and good friend to the sisters, and the prominent German architect Frederick Menkens.
After years of fund-raising and saving, the sisters had managed to buy 18 acres of John Browne's land for £900 cash, and to raise a loan to begin building. The west wing with its schoolroom and dormitory had been built in 1892, the north-facing section containing reception areas in 1901-02, and now the east wing that housed the refectory, kitchen and laundry was finished, and the work could be declared complete.
It was a building erected ad maiorem Dei gloriam – "to the greater glory of God" – and the sisters must have felt a thrill of pride as they anticipated its opening.
Read Monica's entire reflection from the July edition of Aurora here.
Download a flyer about events being held to celebrate the centenary of the Singleton Mercy Convent.