Archived News Item
NSW Mercy congregations gather at Parramatta for celebrations
December 21, 2006
What a wonderful multitude of stories have been told at gatherings right across the globe as we sisters celebrated our 175th anniversary of foundation as well as the 25th anniversary of the Australian Institute!
A congregation of nearly 700 rejoiced together as we celebrated Eucharist in Parramatta's beautiful new Cathedral on Saturday December 9. Many were sisters who live in the greater Sydney area; others travelled by bus, car or plane from all of the NSW Congregations – from North Sydney and Parramatta, Bathurst, Gunnedah, Grafton, Goulburn, Singleton, Wilcannia-Forbes, and from interstate. There was even a Sister of Mercy of the Americas! There were friends, family, associates, partners in ministry and students and a most welcome, warm-hearted group of former Sisters of Mercy.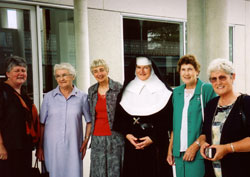 The beautifully prepared and expressive liturgy was a moving experience, much appreciated by all who participated. After a welcome from the traditional owners of the land and the arrival of a suitably-clad "˜Catherine impersonator' escorted by the Institute's founding President, Sister Dorothy Campion, burning candles were ceremonially carried from every corner of the Cathedral. These represented all the countries where Sisters of Mercy live and work and we knew ourselves to be part of an international, ever-expanding group of Catherine McAuley's followers ministering God's Mercy.
The joy of the occasion was enhanced by wonderful music from fine instrumentalists and the voices of the Tongan choir whose rousing rendition of Handel's Hallelujah Chorus made a fitting climax.
After sharing "˜tea-and-scones' hospitality with friends in the Cathedral courtyard and hall, 280 sisters enjoyed lunch together. Chamber music entertained the diners while the after-dinner entertainment took the form of a story-telling "˜item' from each of the NSW congregations. We heard stories of historical treasures, of miraculous events and splendid traditions, delivered in anecdote, in verse, in artwork and in song. Catherine would have felt so very much at home! In best party tradition, there were even "˜lucky-sticker' prizes at each table.
Congratulations and thanks go to the organisers – with particular mention of Mrs Carmen Grima, Congregation Secretary at Parramatta, the liturgists, the social committee and the Congregation Leaders of NSW.
From: Sister Jenny Hartley RSM
Email: jhartley@mercy.org.au