Archived News Item
North Sydney Mercy publishes biography of congregation's foundress
April 26, 2007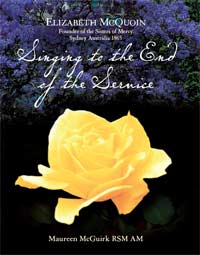 Well known journalist, commentator and federal political candidate Maxine McKew this week launched the book Elizabeth McQuoin – Singing to the end of the Service written by North Sydney Sister of Mercy, Maureen McGuirk AM. The book outlines the story of London-born Elizabeth McQuoin, who joined the Sisters of Mercy in Liverpool, England, and from there, took the courageous step of leading a small group of women to make a foundation in Sydney in 1865.
Sister Maureen McGuirk's Elizabeth McQuoin – Singing to the end of the Service is the story of an English woman born in London whose spiritual journey took her to Liverpool to the Sisters of Mercy where she joined the foundation planned by Catherine McAuley, founder of the Sisters of Mercy in Dublin, Ireland.

Elizabeth dedicated herself to the works of Mercy. Her willingness to serve wholeheartedly in the spirit of Catherine McAuley led her to take the courageous step of leading a small group from Liverpool England to make a foundation in Sydney Australia in 1865.
Thus she joined the ranks of pioneer women of Australia whose contribution to the history of this country is inestimable and whose ability to help make the difference required to turn Australia from a dumping ground to a country with a remarkable future cannot be measured. She bequeathed a rich legacy in the name of a compassionate God to future generations of Australians.
The following comments have been made about the book:

Maxine Mc Kew, Journalist
"Maureen McGuirk has given us the best kind of history of the founding of the Mercy Community in Sydney – she leaves us wanting more! Elizabeth McQuoin's achievements and struggles are at the centre of this story: the Mercy community she established in 1865, first at St Patrick's in the Rocks, and later in the area regarded as the sanitarium of the city, North Sydney.

"Elizabeth McQuoin should be celebrated as one of the more significant 19th century pioneers… To those of us who feel as I do that too often the story of feisty female achievers is neglected in our national story-telling, then Maureen's history gives us a long overdue correction."

Katherine Thomson, Playwright and Screen Writer
"Elizabeth McQuoin was a powerhouse, a woman who accepted the invitation to come to New South Wales, and launched herself into fulfilling her vocation and establishing the order. It's rather a shame Elizabeth McQuoin hadn't thought to write a management manual, she clearly developed into a quality leader whose reflections are still relevent. Her wisdom, resilience and patience were drawn from her religious faith, her fellow sisters and buoyed by a distinctive, cheeky sense of humour, all of which has been beautifully captured by Sister Maureen in this compelling portrait of an outstanding woman of her times."

Janet West, Historian and Playwright
"Elizabeth McQuoin, Singing to the end of the Service, is a wonderful work – a story which had to be told. It is a tantalising portrait of an early Church leader whose imprint on Australian Catholic schools and hospitals and welfare institutions is clearly visable today. In a genuine labour of love, Maureen McGuirk evokes the cost of leadership for Elizabeth McQuoin, the founder of the Sisters of Mercy in Sydney, NSW, Australia."
To purchase the book phone (02) 9957 5040 or DOWNLOAD AN ORDER FORM HERE.
From: Sister Maureen Gleeson RSM
Email: maurg@ozemail.com.au