Archived News Item
North Sydney Chapter outcomes
November 12, 2008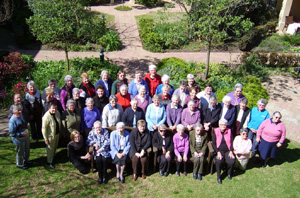 At their recent Chapter of Elections, delegates of the Sisters of Mercy, North Sydney endorsed a new Mission Statement as well as "Called the Congregation" to focus on seven areas.
The Sisters of Mercy North Sydney held their Chapter from September 23-25 during which Sister Jennifer Ryan was re-elected as Congregation Leader.
Sisters Lorraine Phelan, Maureen Gleeson, Jennifer Bailey and Georgette Rolland were elected to the Leadership Team. Congratulations to the new leadership who will take up their roles on January 9 for the next five years.
At our Chapter of Elections the Delegates endorsed the following Mission Statement as well as "Calling the Congregation" to focus on seven areas.
MISSION FOCUS STATEMENT
Women of Mercy
Women of Hope
standing together
in solidarity with the poor
making visible in our world
God's transforming love.
THE 2008 CHAPTER CALLS THE CONGREGATION TO
Act out of a deeply contemplative life which nourishes our relationship with God, ourselves and all creation.
Share in Christ's mission: a mission that is outwardly focussed and clearly identifies those we stand with and what we stand for.
Discern how we can be authentic in our response to the poor and marginalised today with the resources at our disposal.
Call forth leadership that is professional, visionary, risk-taking, open to change and creative, which unifies the Congregation in the journey of Reconfiguring and acknowledges the concept of non-elected leadership.
Seek God's will for our future mission of mercy and justice in the context of Reconfiguring.
Speak and act with justice on matters regarding older people through educating ourselves and by accepting the reality of ageing.
Embrace the spirituality of the interconnectedness of creation and commit to continuing education in all aspects of eco-justice.
From: Sister Loreto Conroy RSM (Local Communications Facilitator, North Sydney)