Archived News Item
Newfound help – a global partnership
November 27, 2011
The congregations of the sisters of the Presentation and the sisters of Mercy in Newfoundland have made a very generous two year commitment to support development and aid work in health, education and social justice in Papua New Guinea through Mercy works, Australia.
The donation comes from the congregations' education fund which was established in 2007. The fund itself has an interesting history. In 1958 the congregations established and administered Holy Heart of Mary High school in St John's, Newfoundland. It is a state of the art school consistently achieving high standards of educational excellence. After 40 years of successful operation, the provincial government assumed possession and control of the school by an act of parliament, 'without consultation or compensation' when Newfoundland and Labrador lost the denominational system of education. After much deliberation, the congregations decided to take legal action against the government. The case was settled in 2006 and the congregations used the total settlement amount to establish the Mercy/ Presentation education fund. Interest from the investments of the fund is used to support educational programmes on a provincial, national and international level.
Global poverty, women and Education Sr Patricia March RSM and Sr Lois Greene, PBVM, co-chairs of the fund committee, both taught at Holy Heart of Mary and Patricia was the principal for four years. Patricia explained the reasons behind their generous support of Mercy works Goroka/Mt Hagen in PNG. 'By supporting Mercy Works we are able to address three important areas of focus for our ministry: global poverty, women and education. the aims of the Papua New Guinea programme tie in very well with the aims of the Mercy and Presentation sisters. Both have a history of ministry in education, social welfare and prison outreach".
Collaborative effort
Sr Patricia explained that there are strict Canadian guidelines for supporting international projects through charitable donations. Mercy Works' objectives and clear reporting structures meet these guidelines, which made support from the fund possible. The Mercy & Presentation sisters are proud of this collaborative effort because it provides a way to collaborate and make a difference by providing financial support to those who work directly with the people of Papua new Guinea.
Mercy & Presentation Congregations In addition to their ministries in healthcare, aged care, prisons, education and ecology and justice in Canada, the sisters of Mercy have missions in Peru and the Presentations sisters minister in Dominica and Antigua, West Indies. Both congregations are connected globally through their International Associations.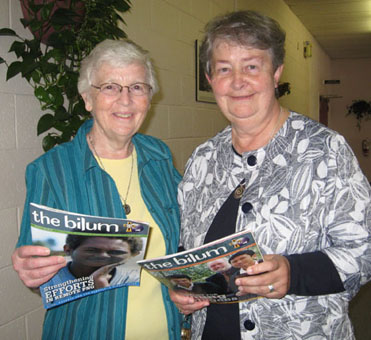 Patricia March RSM and Lois Greene, PBVM
Family Care Sisters
The Family Care Sisters (also known as the Grey Sisters), based in Melbourne, support the Mercy Works programme in Goroka/Mt Hagen. As Sr Michele Toussaint, congregational leader says, the Family Care Sisters 'journey closely with the Mercy Sisters, supporting each other's ministries. If we can be involved in a programme like Mercy Works in PNG, if it is helping families, we very much want to support it.'
The Grey sisters have been supporting Mercy Works activities in PNG since 2010. The programmes there 'struck a chord with what our foundress, Maude O Connell believed in. She believed the mother is the centre of the home. She founded the order to help preserve family life and support families and children. If we can help disadvantaged people in some way through donating to Mercy works programmes then we are very happy to help. We want to support the education of women, helping them to look after themselves and their families.'
Caring for families
The Family Care Sisters were founded in 1930. They have a respite facility at Croydon in Victoria for women who need time out in a nurturing place. They have a unit in Canterbury and a cottage in Croydon for people to have a retreat and flats at Rye for families to have holidays. The order also established the O'Connell family centre which is now owned and managed by Mercy Health and Aged Care. The centre provides a range of services for families experiencing difficulties in the early stages of parenting.
A shared journey
Sr Michele sees many similarities between the foundresses of the Mercy Sisters and the Family Care Sisters. 'Our congregations are on a journey together. I don't know where the journey will take us, but it is an interesting and exciting one.'