Archived News Item
New strategic direction and logo for Mercy Works
May 29, 2008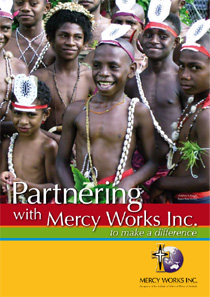 A new strategic direction for Mercy Works Inc. was approved at the recent Institute Plenary Council meeting. From 2008 until 2010, the Asia-Pacific region will be the primary focus of Mercy Works' programmes overseas. To highlight this new focus, the Board of Mercy Works recently commissioned the design of a new logo and promotional brochure.
At the Annual General Meeting of Mercy Works Inc. in November last year, the Board elected a new Chair. Sister Mary Duffy of the Melbourne Congregation has been a Board member since 2006 and brings a wealth of wisdom and expertise to this role.
Mary has a background in education and congregation leadership, as well as extensive experience as a board member of various educational and community development organisations.
It is Mary's hope that as Mercy Works develops, good systems and policies will continue to be established, thus enabling the agency to expand its support of programmes, both in Australia and overseas.
A significant development for Mercy Works under Mary's leadership has been the ratification of a new strategic direction for the agency. From 2008 until 2010, the Asia-Pacific region will be the primary focus of Mercy Works' programmes overseas.
To highlight this new focus, the Board recently commissioned the design of a new logo. Appropriately, this logo prominently features the Mercy cross sitting in close proximity to the Asia-Pacific region of the globe.
"We need to be proactive in promoting the mission of Mercy Works and in communicating our direction statement for the next three years," says Mary.
"To this end, we have just produced a promotional brochure depicting some of the projects we are currently supporting. A community education programme which we hope to offer within our congregations and associated ministries, as well as in the wider community, is also being planned."
Mary believes that fundraising is of vital importance. "Increased funds will enable us to ensure favourable responses to the many project proposals which we are currently receiving.
"I hope that we will gain the confidence and understanding of more of our sisters and colleagues in Mercy ministries, so that Mercy Works will be enhanced in practical ways from their resources."
Mercy Works is extremely grateful to the Sisters of Mercy, Townsville who recently sponsored the production of a new promotional brochure for the agency (cover is pictured above). By providing sponsorship for this publication, the message of Mercy Works can reach a broader audience. Thank you to the Townsville Congregation!
To find out how you can partner with Mercy Works in similar ways, contact Sister Rosemary Carroll RSM (Executive Officer) on (02) 9564 1911 or mercyworks@mercy.org.au
Mercy Works Inc. Mission Statement
Mercy Works Inc. supports the local and overseas relief and development activities that are part of the vision and mission of the Institute of Sisters of Mercy of Australia.
The programmes engage in partnerships with communities to promote justice, self reliance and to support displaced people and communities who are denied access to basic resources such as education, health care and social welfare.
Mercy Works Inc. programmes strongly endorse the principles of freedom, mutual respect, participation and protection of the rights and responsibilities of all.
Mercy Works Inc. Direction 2008-2010
In Australia, Mercy Works Inc. offers community education in world development concerns, provides assistance with refugees, and works in partnership with Indigenous peoples.
Overseas, the primary focus is in the Asia-Pacific region, where, in collaboration with local partners, Mercy Works Inc. directs its efforts towards the education, health care, and social and spiritual well-being of those who are poor or displaced.