Archived News Item
New projects in Timor Leste focus on women and youth
August 10, 2010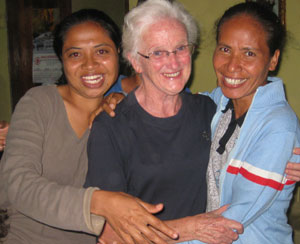 In recent years, Mercy Works Inc.'s support of community development projects in Timor Leste has concentrated on Fohorem, a remote community in the country's south-west. In 2010, the agency is supporting two new projects in the district of Aileu, about 50 kilometres, or a three-hour drive, south of Dili.
At Aileu, Mercy Works Inc. is supporting its local partner ISMAIK, a basic Christian community, to build a centre that will be a venue for women to participate in formal literacy, numeracy, sewing and craft classes. This centre will also provide a space for women to share their cultural and spiritual heritage and learn about traditional cooking and medicinal practices.
Like the rest of Timor Leste, a high concentration of young people live in Aileu, many of
whom have left school with few employment prospects.
According to Victor Nascimento Araujo, 23, a Youth Co-ordinator in the Aileu Parish, increasing numbers of young people are "sitting idly in the markets, often drinking the local brew and forming groups that frighten others around them".
Victor believes there is concern among the community that the infamous gangs of disaffected youth, mostly found in Dili and other major centres, may become prevalent in the normally peaceful Aileu town and district.
Mercy Works Inc. is supporting Victor and the local community to combat this potential problem by establishing youth groups in 26 villages of the parish. Through these groups, young people will be offered support and a range of activities, including sport and music, educational and discussion forums, and personal and spiritual development sessions.