Archived News Item
New Project Director for Mercy Works PNG
November 18, 2009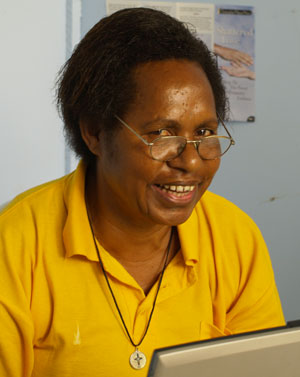 Mercy Works PNG's newly appointed Project Director, Sister Mariska Kua (pictured right), is passionate about giving hope to her fellow Papua New Guineans and equipping them with skills to be self reliant.
She is heartened that this is the desire of many people she has met since starting in her new role earlier this year.
"People say, 'We don't want hand-outs. Give us the skills to take care of ourselves so we can have our identity and dignity back'. This is nice to hear," she says.
A community development initiative of the Sisters of Mercy PNG and Mercy Works Inc., the Mercy Works PNG Project is empowering young people and their families in the Eastern and Western Highlands Provinces to address the serious problems of poverty, unemployment, domestic violence and HIV-AIDS.
Mariska is disturbed by the various expressions of poverty in PNG and admits she never thought she would see such suffering in her country. She'd read about it in Africa and other places and thought: "It won't happen here; it's paradise".
Mariska brings a range of experiences and skills to the Mercy Works PNG Project. Born and raised in Kup, in the Simbu Province, she is very familiar with the culture of the Highlands and the challenges faced by its people. She has a background in primary education, and from 2002 to 2007, she served as leader of the Sisters of Mercy PNG.
Mariska started at Mercy Works PNG in April and says the learning curve has been steep. While the nature of the work continues to be challenging, she feels more at ease in the role and can see the positive impact the project is having on the people and the community.
She is quick to pay tribute to the project's founding director, Sister Gaye Lennon from Gunnedah in NSW, who worked collaboratively with PNG Sisters Maryanne Kolkia and Theresia Boyek, from 2006 until this year to establish the project, initially in Goroka, and later in Mt Hagen.
"It's a credit to Gaye, Maryanne and Theresia who have started the project from scratch… in the beginning it wasn't easy," she says.
Mariska also acknowledges the contribution of those in Australia and other countries who have helped to make the project possible.
"I am very appreciative of the people who help us to carry out the work. If we had to do it ourselves I don't think we would be able to do it."