Archived News Item
New president for CRA
July 9, 2008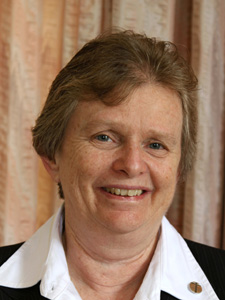 Catholic Religious Australia, the peak body for religious in Australia, has a new President following the group's 32nd national assembly in Melbourne last week (June 30 – July 3). Sister Clare Condon, Congregational Leader of the Sisters of the Good Samaritan (pictured right), will be CRA President for the next two years.
Sister Clare was born in Jamberoo, south of Wollongong. She was educated at St Francis Xavier's and St Mary's Star of the Sea, Wollongong. Her tertiary qualifications are in accountancy, sociology, education and social policy.
After profession as a Sister of the Good Samaritan in 1972 she trained as a teacher and taught mainly in Queensland.
In 1988 she was appointed Province Counsellor in the Sydney Province of the Sisters of the Good Samaritan and in 1993 was elected as a member of the Congregational Governing Council.
At the end of this term of office Sr Clare joined the Archdiocese of Adelaide Pastoral Team in March 2000 and became Chancellor of the Archdiocese in 2001. She held this position until she was elected Congregational Leader of the Sisters of the Good Samaritan of the Order of St Benedict in September 2005.
Other positions which Sister Clare currently holds are: member of the Board of Directors of Catholic Church Insurances; member of governing company of the Australian Catholic University; member of the Administrative Council and regional representative for the International Conference of Benedictine Women.
Sister Clare replaces Father Mark Raper SJ, of Melbourne, who finishes his term as Provincial of the Jesuits on July 31. The new Jesuit Superior General, Father Adolfo Nicolas SJ, has appointed Father Raper as President of the Jesuit Conference of East Asia and Oceania (JCEAO), the position Father Nicolas, himself, held until his election as Father General on January 19, 2008. Father Raper will be based in Manila.
When the new CRA Council meets for the first time in Sydney in mid-August, only four of the previous Council will return: elected members, Father Tim Brennan MSC (Sydney) who has been treasurer and Brother Vince Duggan CFC (Brisbane); West Australian representative, Sister Anna Fewer PBVM (Perth) and Anglican invitee, Brother Alfred Boonkong Leong (Hunter Valley).
The new members will be Father Tim Norton (SVD, Sydney) and State representatives, Sister Majella Kelly PBVM (Tasmania), Sister Maureen Andrews MFIC (Queensland), Father Noel Connolly SSC (Victoria), Sister Enid Wood OP (South Australia) and Sister Marie Duffy RSM (New South Wales).
Among the issues the Council will deal with will be to follow-on from the assembly by developing practical applications of its theme: Our Australian Multi-cultural Church: Reality, Gift and Challenge. Following a powerful mix of academic (Professor Des Cahill Professor of Intercultural Studies at RMIT University of Melbourne) and personal input from leaders and members of congregations as well as table sharing, the assembly made clear presentation to the Council that it should pursue multi-culturalism as a significant thrust.
Source: CRA Media Release
To find out more about CRA follow this link.