Archived News Item
New phase for Mercies
August 4, 2006
The four congregations of Sisters of Mercy in Queensland are working to establish a new Catholic organisation to take responsibility for the health, aged care and community service ministries they operate.
The sisters said the new body, working collaboratively with the bishops and other Church organisations, could also initiate new ministries in response to changing needs.
As the number of religious has diminished, the congregations have increasingly relied on lay people to take leadership and responsibility in their ministries.
Some other Australian groups have already moved to ensure that final responsibility, now held by the congregations, can be placed in the hands of lay people authorised to do so in the name of and in communion with the Church.
In their Statement of Vision and Intent, the Queensland Mercy Sisters referred to "our hope to see these ministries continue to exist, to grow strong and to flourish in the name of Jesus and true to the vision of Catherine McAuley and the Sisters who founded and developed them."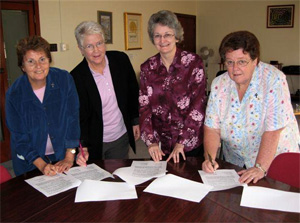 (From left) Mercy Sisters Sandra Lupi (Brisbane),
Moira Truelson (Rockhampton), Helen Mary Peters (Townsville) and Faye Kelly (Cairns) sign the Statement of Vision and Intent
They see the step as essential in exercising responsible stewardship for these ministries. There are many complex issues to be worked through but the leaders are confident their initiative will ensure a strong and secure future for the ministries.
Messages to: Elizabeth O'Keeffe RSM (Congregation Secretary) eokeeffe@sombris.org.au