Archived News Item
New partnerships to improve health in PNG
October 30, 2010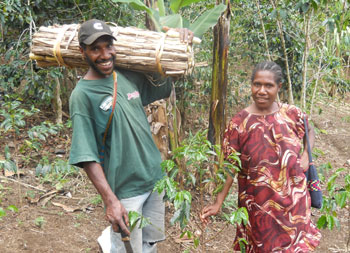 According to the World Health Organisation (WHO), Papua New Guinea's health status is the lowest in the Pacific region.
Communicable diseases, including malaria and tuberculosis, remain the major cause of illness and death in all age groups. Maternal and child death rates are extremely high, and to complicate matters, Papua New Guinea (PNG) has a generalised HIV-AIDS epidemic.
The main reason for these disturbing trends is that access to basic health care services throughout the country, but particularly outside urban areas, is very limited.
Rugged terrain, poor road infrastructure and security issues create significant barriers to health care. Many rural health facilities have closed in recent years and there is a shortage of medical doctors, nurses and community health workers.
The situation in the remote community of Pundibasa-Abunamo in the Eastern Highlands illustrates some of these problems. The village doesn't have any resident health care personnel and the closest aid post is 15 kilometres away. With transport limited, many people are forced to walk when they are sick.
To improve this situation, Mercy Works Inc. has formed a new partnership with the Diocese of Goroka to build an aid post at Pundibasa-Abunamo.
"This is an exciting prospect and a life-giving one for the local people, who, for a long time, have asked for help to build and set up a health centre in their community," says Gaye Lennon RSM, Mercy Works Inc. Co-ordinator of Offshore and Indigenous Projects.
"It will mean that the people no longer have to make the long trek to the nearest aid post – by foot mostly – when they are sick."
When the aid post is complete it will provide basic health care services for over 3,000 people, with a particular focus on women and children.
Staff from St Joseph's Centre for Hope, a HIV-AIDS service in Goroka, will also visit the aid post on a regular basis to provide voluntary HIV-AIDS testing, counselling and care.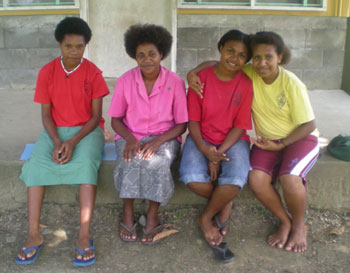 For the people of PNG's East Sepik Province, illnesses such as malaria, pneumonia, asthma and skin ulcers are common, and the 600-plus students at the Mercy Secondary School, a boarding facility in Yarapos, are no exception.
At any given time about 30 students need regular treatment for malaria which necessitates frequent trips by foot to the local aid post or transportation to the town hospital. This toing and froing can lead to considerable missed classroom time, and if the journey is at night, it can be particularly dangerous.
This year Mercy Works Inc. formed a new partnership with Mercy Secondary School, Yarapos to build a health clinic.
"Having a new health clinic at the school will mean most students can be treated on site, thus reducing visits to the aid post and town hospital and minimising absences from class," explains Gaye.
"Not having to travel at night, except in emergencies, will be safer for the students too."
About 100 staff members and their families who live on site at the school will also benefit from the new health clinic.
You can support Mercy Works Inc.'s community development programmes online or by contacting us on (02) 9564 1911.