Archived News Item
New partnership formed for Fohorem project
June 3, 2009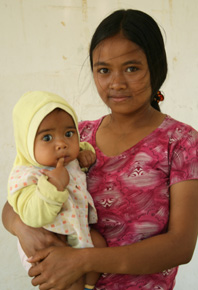 Mercy Works Inc. has formed a new partnership with Rotary Mosman NSW, Mercy Health and Aged Care Central Queensland, and the Sisters of Mercy Gunnedah and Melbourne to build and develop a new Maternal and Child Health Centre in Fohorem, Timor Leste.
According to World Health Organisation figures, 100 times more women die during childbirth in Timor Leste than in Australia. Sister of Mercy, Helen Nolen says the rates are even higher in isolated communities like Fohorem where there are very few health services.
Helen has been working in Fohorem since 2005 and says there is an urgent need for a maternal health and child centre in the area.
The community had a small hospital but it was extensively damaged during the violence that followed the country's 1999 Independence referendum.
"Currently women give birth at home, sometimes with the help of a midwife, but frequently alone. Women die in childbirth frequently," she explains.
Mercy Works is committed to reducing the health risks and mortality rates for women and their babies in Fohorem. At the end of 2008, the agency commenced research and consultation with local people in Fohorem and potential partners in Australia.
Since then, Rotary Mosman, a major strategic partner in the successful Fohorem Water Project, has committed to the project.
"We are so pleased to be involved in this project and Rotary wants to continue its partnership with Mercy Works," says Dieter Beck, who will co-ordinate Rotary's involvement in the project.
Rather than build a completely new centre, the structure of the existing damaged hospital will be used. Rotary will provide the volunteer skill base: an architect, Michael Blakeney, and a builder, Rob Sturrock, who will employ local people and provide training as required.
The remaining partners of the project, Mercy Health and Aged Care Central Queensland and the Sisters of Mercy Gunnedah and Melbourne, are enthused by the project and will provide financial and in-kind support.
Photo credit: Helen Nolen RSM