Archived News Item
New Mercy Associates Formation Resource
October 31, 2017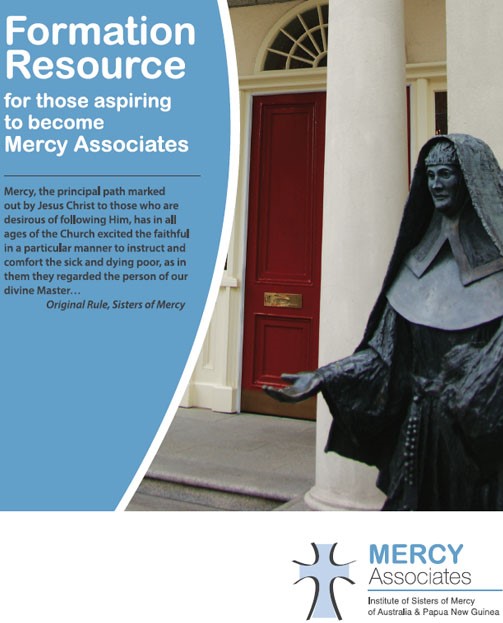 An important milestone for Mercy Associates has been reached with the development of a Formation Resource for candidates aspiring to become Mercy Associates.
The resource book has been a long-term project, mostly overseen by the Mercy Associates Leadership Group. A Formation Committee comprising Sheena Barber (Launceston), Bernard Dobson (Melbourne), Les Stewart (Ballarat), Terry Power (Cairns) and Carmel Ross (Executive Officer) put in many hours of work writing and reviewing drafts. The new book was approved by the Institute Leadership Team in September.
The purpose of the resource is to support those in Mercy Associates groups who are working with candidates during their preparation and formation period, giving them material that will form the basis of learning and discussion. The formation period for aspiring Mercy Associates usually takes between six and twelve months, and candidates are invited to attend their local group's gatherings during this time.
Topics in the resource include: what being a Mercy Associate involves; the call to Mercy; Catherine McAuley; Mercy spirituality; the Sisters of Mercy in Australia and Papua New Guinea; and ministry within Mercy Associates. Examples are included of the activities and ministries of six existing Mercy Associates groups to provide an understanding of the workings of groups, what their meetings involve, etc.
The Formation Resource is being trialled by the Ballarat group with candidates for their Mercy Associates, and their feedback has been invaluable. Now that the resource is approved, it will be introduced steadily to all existing and new groups. As well as being used for its purpose of preparing new candidates, the resource will be useful for existing Mercy Associates to support their efforts in the ongoing formation of associates.
Information about the Formation Resource is available from Chris Convery (NSW groups only) and Carmel Ross (groups in all other locations).
Messages to: mercyassociates@ismapng.org.au