Archived News Item
New members gathering Glebe 2006
August 1, 2006
Over the years the world has gone through many changes. Especially the inventions during the twentieth century have turned the world upside down. The world seems like the wonderland in the fairy stories. Now you walk towards the door and it opens itself, the machines not only wash your clothes and dishes but also dry them.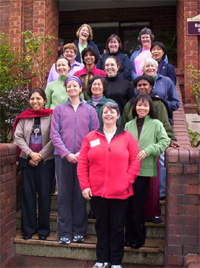 Mercy religious life has also been subjected to many changes. While there have been many external changes, such as no longer wearing a habit, the really significant changes are reflected in communication within and among our various cultures. This is highlighted at our recent conference entitled The Meeting of Cultures: One Heart, One Soul in God 'where the newer members from New Zealand, Pakistan, Papua New Guinea and Australia came together.
If you were a local resident in Glebe, living near St Scholastic's College, I wonder what you would have noticed that was different. Certainly inside the college grounds, Mercy was alive and well. Many of us also walked the streets in the area taking in the harbour and the local coffee shops.
Between 11-16 July 2006, young Mercy Sisters and formation personal gathered from PNG, Pakistan, New Zealand and the different states within Australia at the 2006 New Membership Conference "The Meeting of Cultures… One Heart and One Soul in God." The young sisters ranged from those starting off in their journey, through to those who had been recently finally professed.
From the moment of arrival, friendships were renewed and new ones were formed, as during the days Marlene Hixon FMFM guided us through a process of exploring the labyrinth of our identity, our birth culture, through to Mercy culture.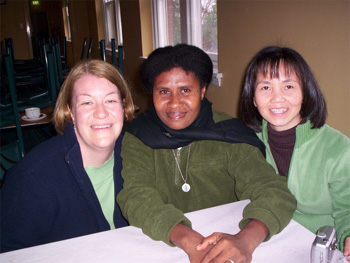 We began by standing on the imaginary map of the world on the places where our countries of origin were located and there we greeted one another in our local languages. These countries were Pakistan, China, UK, Vietnam, Papua New Guinea, New Zealand & Australia. Thus we started to revisit our cultures – evaluating the values, beliefs and religious practices that we hold, which strengthen us and give us our identity. But with time, the dirt or the mischief of our culture such as racism, sexism and religious superiority and intolerance have accumulated in the "˜ancestral well' of our forebears and we drink from it without filtering the murkiness.
The different cultures within the group added to the richness of our days as we shared through story, symbols, and creatively worked together to express our diversity and the weaving together of differences to be one heart, centred in God.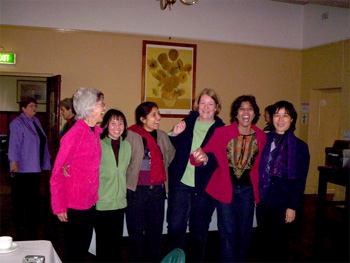 We reflected on the Samaritan Woman (Jn 4:5-42) and entered the well of our individual ancestry and our Mercy ancestors, considering the mischief that may prevent us from uniting. Along side this we reflected on the values of ancestry, discovering what values Jesus demonstrated in the story. Many values were expressed in the form of drama as we reflected on Mercy values in today's world.
We reflected on the fact that we bring our own values and prejudices when we join a congregation, with the result that there is sometimes cultural conflict. Also our prejudices can keep us from entering into true relationship with one another. With Jesus we can drink from the well of his living waters and get life and healing.
As part of the process, we formed groups and dramatized stories from our own experiences where people acknowledged the murky parts of their culture and extended their hands for forgiveness and healing so that wells of new life could burst forth.





Each culture group, was acknowledged and kept alive throughout the days, as daughters of Catherine, we shared our challenges of God's call to be following in her footsteps in a hurting world. Daily prayer had been prepared by different congregational groups and this added richness to the culture we bought with us.
One of the highlights that reflected how successful the process during the first three days was, happened on the last Morning of the gathering. The newer members got into 4 groups to express, using body movement, something that has energised and enlivened them. Each group expressed the diversity in culture and coming together in unity all with the most parallel movement. The amazing thing was, the groups had met in separate parts of the building to prepare, and came together only to present to each other.
This synchronicity continued into the weekend, taking on a complementary element when more women who had been finally professed in the last 10 years joined the new members. In a process facilitated by Barbara Broad RSM and Anne Cossar RSM we listened to the voices that sustained and nourished our calling to Mercy Life. After reflection on our Constitutions individually and in groups, we shared how we have been ignited by the Holy Spirit in joining the Mercies. In Mercy life fired by Catherine McAuley's spirit we reach out to one another and to people outside our communities with God's Mercy, knowing that it is our own need too.





We met again in groups to express, using body movement, something of what it is that keeps us going and sustains us. On Sunday, our group was joined by the local formation animators from each congregation and the Institute Leadership Team. Skilfully facilitated by Karon Donellon rsm, we shared with each other, across the generations and cultures what sustains us. The new members and formation personnel presented their expressions to the whole group. These presentations drew out themes and Ideas like I am thine, friction in relationships producing energy, seeking God, prayer, relationships, justice in action, constant self-knowledge, being Mercy in all that I am, were shared by the members.
One group did a "˜Sound of Music' rendition of "˜My favourite things' which included, friendship and sharing, mission and ministry, seeing God in almost anything, diversity in culture. One verse went as follows:
Warm cups of tea
And phone calls with friends
Longs walks with nature
And emails we send
Connects us with Catherine
And the love that she brings
These were a few of her favourite things.
We were all enriched by the energy and friendship of one another. Times after dinner when we shared nibbles and drinks were filled with laughter and sharing. In smaller groups people explored the tastes and places in Sydney.
The conference was an enriching experience, which grounds the new members of our congregations in love and mercy. It sustains and energizes us in our mercy journey. It creates a network of other young Mercies living Catherine's dream today.