Archived News Item
New magazine for Mercy Works Inc.
June 26, 2008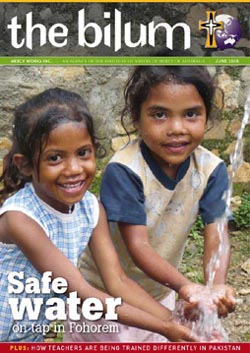 Mercy Works Inc. has a new magazine! In the first edition of The Bilum (cover pictured right), you can read about Sister Helen Nolen's work in Fohorem, a remote and mountainous community in the south west of Timor Leste, near the West Timor border.
TIMOR LESTE: REMOTE AREAS MISSING OUT
WORDS BY: Stephanie Thomas
It's nearly ten years since the East Timorese people courageously risked their lives and voted overwhelmingly for independence from Indonesia. In the violence that followed the September 1999 referendum, thousands of people were killed and hundreds of thousands displaced. The implementation of a scorched earth policy by pro-Indonesian militias ensured that very little of the country's public infrastructure, buildings or housing remained.
Timor Leste is slowly being built from the ground up. Many believe it will take decades for this new nation, the poorest in our region, to get on its feet. But according to some, progress is significantly slower in remote areas.
"Communities in the mountains have received little of the benefits of development monies that have been poured into Dili and the eastern parts of the country," claims Sister of Mercy, Helen Nolen.
Helen is well placed to make this claim. Since 2005, she has been working as a teacher-trainer in Fohorem, a remote and mountainous community in the country's south-west near the West Timor border.
Fohorem wasn't spared the destruction of the 1999 conflict when nearly all buildings and infrastructure were razed to the ground.
"Replacement of infrastructure in Fohorem and the surrounding subdistricts of Fatumean and Fatululik has been extremely slow," says Helen.
The main infrastructure in the village includes the church, the schools and a health clinic, but the community has no general electricity supply, no permanent and safe water supply, and no telephone coverage. Until June last year, people were unable to access Dili radio; before that, Indonesian radio was their information source.
Helen is one of a small number in the community who has access to a generator for a few hours each evening. To use her mobile phone she must go to one of two access points – about a 40 minute walk away or a 15 minute drive.
Helen describes the road conditions, especially in the wet season, as "appalling". There has been little road maintenance since tanks mangled them in 1999. Consequently, it takes enormous amounts of time to travel small distances. A road trip to the district capital Suai, only 30 kilometres away, takes two hours, while road travel to Dili, about 200 kilometres away, takes nearly 11 hours.
The deplorable road system isolates people from the rest of the country and makes it almost impossible to buy and sell goods outside the district.
"Getting materials in and out is an effort," says Helen. "Physically getting myself in and out is a problem. You take your life in your hands, especially travelling from Suai to Dili. The roads are narrow. You don't know what's around the corner. There are always people being killed.
"Thank God GTZ [German aid agency] has begun the reconstruction of road to Fohorem. We are hoping that by the end of the year we will have a sealed road for most of the journey to Suai. We will just have a big river to negotiate. It will make travel so much easier."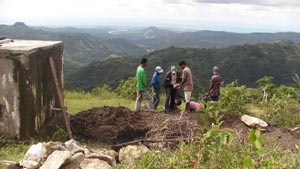 While Helen acknowledges the beauty of this mountainous area, she is quick to dispel any notions of an idealistic farming life. Most people eke out an existence as subsistence farmers, growing corn, beans and cassava. Those few with jobs are the nurses, police, teachers and people in civic roles. Unlike neighbouring mountain areas that grow coffee, there are no cash crops in Fohorem. "Most people don't see cash," she says. "If they don't grow the food, they don't eat."
Helen believes there is a great need to improve agricultural practices. Between December and February when little food is produced, people go hungry. "It's not malnutrition as such," she explains, "it's cyclic hunger."
Helen also suggests the staple diet of vegetables and rice is not balanced. Children are particularly vulnerable. "There's not a lot of protein in the diet," she says. "If the trucks can come in from the markets, sometimes dried fish is brought up. People don't eat a lot of meat."
While the challenges facing the people of Fohorem are enormous, they are not insurmountable. For Helen the solution is simple: "education and health are the basis for a good life". Through her extraordinary energy, commitment and expertise, she is making a difference in these areas.
When Helen arrived in Fohorem, her role was to support education initiatives: to teach English in the junior high school and assist the teachers in education methodologies. While this work continues, she is also teaching English to adults and playing a significant role in the renovation and construction of community infrastructure.
With support from Mercy Works and the Australian Embassy in Dili, a kindergarten has been constructed which also incorporates an English room for adults. The installation of a solar panel on the roof has been an extremely valuable addition. While giving students the benefits of electricity, it is also a sustainable and environmentally-friendly source.
"This is a real positive," says Helen, "because no other school in Fohorem at this stage has light and power." Helen adds, "It's going to make my teaching so much easier and it's going to be a wonderful benefit to the students."
More recently, the Fohorem community has been involved in a major water project in collaboration with Mercy Works, Rotary Mosman (NSW) and Rotary Dili. Upon completion, this project will supply a much-needed permanent and safe water supply to Fohorem and surrounding villages.
Helen is increasingly conscious of supporting sustainable projects that help the whole community. Her aim is "to empower people to help themselves". She feels very accepted by the locals but acknowledges it takes time to build trust with people, to establish and develop relationships.
"Now things can be negotiated without me saying, 'well that's what should be done'. Now, it's not an imposed development; it's about working with people in partnership."
About Mercy Works Inc.
Mercy Works Inc. supports the local and overseas relief and development activities that are part of the vision and mission of the Institute of Sisters of Mercy of Australia.
The programmes engage in partnerships with communities to promote justice, self reliance and to support displaced people and communities who are denied access to basic resources such as education, health care and social welfare.
Would you like to partner with Mercy Works Inc. to alleviate poverty and disadvantage in places like Timor Leste? Find out more.