Archived News Item
New learning centre opened at Lavington
May 6, 2009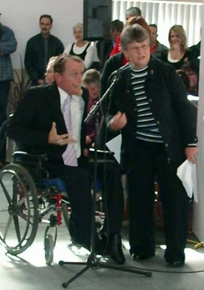 A new learning centre was opened at Mercy Centre, Lavington (a suburb of Albury, NSW) on Tuesday April 28. The day was marked by entertainment, joyful celebration and formalities as the board, staff, clients, families, community and friends realised a dream which has been slowly coming to fruition over the past years.
Sponsored by the Sisters of Mercy, Goulburn, Mercy Centre provides a range of services to people with disabilities in Albury, Wodonga, Orange, Narrabri and Coffs Harbour areas, as well as in Papua New Guinea.
The opening began with a Welcome to Country by Pastor Darren Wighton of the Albury Indigenous Church. Father Peter Murphy blessed the building and Sister Shirley Garland, for the Sisters of Mercy of the Goulburn Congregation, declared the building open.
Sister Patricia Weekes, the CEO of Mercy Centre, recalled how so many people had looked forward to this event. The purpose of the Learning Centre is to assist those who participate "to be smart, healthy, creative and social". One of these aims is highlighted in the use of each of the rooms.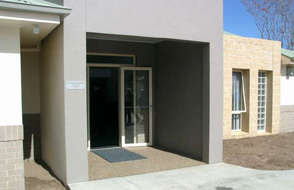 Many facilities are available for use of the clients in this new and beautiful centre – for example, computers, massage, Tai Chi, and Wii technology.
One of the highlights of the programme for the day was the chance it provided for hearing some of the clients' stories as they see them.
We enjoyed some entertainment provided by the Centre's Choir and by the local Gaelic Band. Congratulations to all at Mercy Centre, Lavington!
Visit the Mercy Centre website.
From: Sister Shirley Garland RSM (Local Communications Facilitator, Goulburn)