Archived News Item
New leadership for Parramatta
November 18, 2010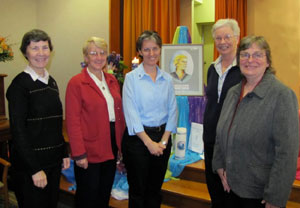 The Sisters of Mercy Parramatta gathered at St Joseph's Centre for Reflective Living in Baulkham Hills, NSW from November 2-7 to conduct the second phase of their tenth General Chapter, having completed the first phase in July.
Following an affirming process of personal and communal discernment expertly facilitated by Anne Lane PBVM, and the celebration of the Mass of the Holy Spirit by Emeritus Bishop Kevin Manning, Catherine Ryan RSM was elected Congregation Leader.
The following sisters were elected as Congregation Councillors: Mary-Louise Petro RSM (Vicar), Maria Lawton RSM, Catherine Harris RSM, and Margaret Jones RSM.
Following the elections, the delegates were joined by other sisters from the Parramatta Congregation, our partners in ministry, co-workers and support staff for an evening of celebration beginning with the celebration of the Eucharist by Monsignor John Usher. The celebration of the Eucharist incorporated a missioning ritual for all present.
Photo, left to right: Margaret Jones RSM, Catherine Harris RSM, Maria Lawton RSM, Catherine Ryan RSM (Congregation Leader) and Mary-Louise Petro RSM (Vicar).
From: Marie Butcher RSM