Archived News Item
New leaders meet for Institute orientation sessions
February 15, 2007
For three days this week (February 12-14), recently elected Mercy congregation leaders – Sisters Faith Jones (Singleton), Berneice Loch (Rockhampton) and Marie Melville (Townsville) – met at the Institute's offices in Sydney with Sisters Nerida Tinkler, Caroline Ryan and Karon Donnellon to pray about and explore aspects of the ministry of leadership.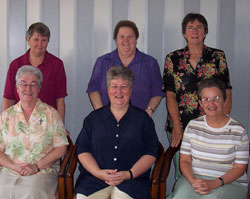 Pictured at Lewisham: Standing L-R: Caroline Ryan, Nerida Tinkler and Faith Jones. Seated L-R: Marie Melville, Karon Donnellon and Berneice Loch.

At a practical level, the role and operation of the Institute Plenary Council (IPC) was discussed – the opportunities it offers leaders for real experiences of sisterhood, as well as its service to the life of Institute through various policies, committees, attention to ongoing agenda, and so on.
The group heard from two "˜guest speakers' during these days – Sister Jenny Hartley, Executive Officer of the IPC and Sister Rosie Carroll, Executive Officer of Mercy Works Incorporated (MWInc).
Jenny explained the administrative procedures and protocols which ensure efficiency in the various Institute activities, while Rosie gave a robust account – both encouraging and challenging – of MWInc's present projects in Papua New Guinea, Pakistan and East Timor.
The three leaders graduated summa cum laude!