Archived News Item
New film about Australian women religious released
September 28, 2006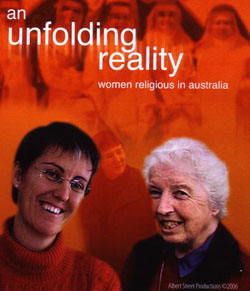 A new film about women religious in Australia was previewed by a number of Mercy Sisters at the Chauvel Cinema in Paddington, Sydney recently.
In An Unfolding Reality: Women Religious in Australia we meet 16 women from 12 religious congregations working and living as consecrated women in vows of poverty, chastity and obedience.
Of these women, three are Australian Mercies – Sisters Maria Lawton (Parramatta), Janette Gray (Adelaide) and Patricia Powell (Bathurst).
In less than 30 years these publicly vowed women of the Church have shed their veils and distinctive religious habits, adopted the dress of the dominant culture, with those whom they live and work, moved away from monastic life and minister to people of every race, colour and creed.
Paradoxically, in the eyes of "˜the world' these women claim that their vows offer a freedom, a liberated heart and a profound meaning and purpose for living.
Though lovingly loyal to the Church, they raise questions that challenge patriarchy, inequality and institutional bureaucracy. As women, they claim more equal and more creative roles in the Church, as in all of society.
Being women of faith, they are not daunted by the knowledge that 40 years ago there were 14,000 women religious in Australia and today that number is less than half, and their average age is considerably higher than the general population.
Whilst some are saddened by what they see as the demise of a life they love and feel called to, there is a general optimism that, in some form or fashion, some kind of religious life will continue to flourish.
Throughout An Unfolding Reality the surreal, poignant and funny animation of cartoonist, poet, philosopher and humourist of the soul, Michael Leunig, provides a whimsical commentary, and an alternative view – for no-one looks at the world quite like Australian cartoonist, Michael Leunig!
An Unfolding Reality was produced by Albert Street Productions. A copy of the DVD at a cost of $40 can be purchased through their office on Ph: (03) 9662 9211 or Email: info@albertstreet.tv
From: Sister Marie Butcher
Email: mbutcher@mercy.org.au