Archived News Item
New faces at Mercy Works Inc.
June 3, 2009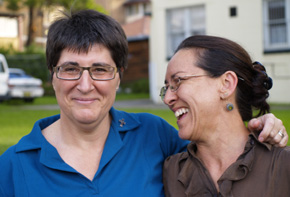 When Rhonda Nelson saw an ad in the newspaper earlier this year for a position as Administrative Assistant at Mercy Works Inc., it was the name of the organisation that captured her attention. "I thought, 'Gee, I like that name!'" she says.
Rhonda looked at the Mercy Works Inc. website and was impressed with what the Sisters of Mercy were doing, particularly in education and their focus on mothers and children.
Having travelled to a number of developing countries in south Asia, Rhonda was attracted by the agency's support of projects in this region. Possessing skills in business administration, she felt she could contribute to helping people in "dire situations".
Rhonda started as Office Administrative Assistant in March, following Bridie Rothwell's decision to finish in the role and pursue postgraduate studies in education.
Sister Rosie Carroll, Mercy Works Inc. Executive Officer acknowledges that staff changes can be very unsettling for small organisations, but there are benefits.
"Each person brings a new set of skills and experiences and that is valuable for organizational growth," she says.
"Bridie made a significant contribution in the ten months she was here. We thank her and wish her well in her teaching career."
Meanwhile, on the other side of the country, Perth-based Sister of Mercy, Joan Smith recently finished her part-time role as Mercy Works Inc. School Liaison Officer. For the last few years, Joan has networked with schools across Australia.
"Given the few hours that Joan was employed each week, she made good connections with schools, and for that we are grateful," says Rosie.
"For some time now, however, the Board has wanted to devote more resources to community education. In February this year, we were delighted that Melbourne Sister of Mercy, Cathy Solano accepted the role of full-time Community Education Officer."
Cathy brings a wealth of experience to this new position. After some years in secondary teaching, she took up education and community development roles in Pakistan, Uganda and Sudan. Last year, she participated in a ten-week internship at the UN in New York with Mercy Global Concern.
Cathy says she's looking forward to meeting with schools, community groups and parishes to raise awareness about the many issues facing people in developing countries.
"I think young people today have such amazing access to news and events from all over the world. I want to be able to help them see that our world is interconnected; that what happens in one part affects the whole; and that we have a responsibility to do all we can to use all the technology and resources at our disposal to help make our world a better place for all peoples.
"There can be no real peace until that happens."