Archived News Item
New DVD and website about Mary MacKillop
April 8, 2010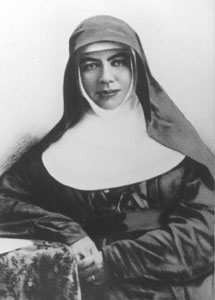 Mary MacKillop will be canonised as Australia's first saint in Rome later this year. As part of the preparations, the Sisters of St Joseph hosted a premiere screening in Sydney last night (Wednesday April 7) of Soul of the Sunburnt Country, the first and the most comprehensive documentary ever produced that profiles the life of Mary MacKillop and the dynamic and significant work that the Sisters of St Joseph continue to undertake in her name across Australia and around the world.
Produced by Melbourne-based documentary makers Albert Street Productions, Soul of the Sunburnt Country offers never-before-seen images and archival material, candid interviews and "access-all-areas" footage to give a rare insight into the life and legacy of Australia's first saint and the history behind, and ongoing work of, the congregation she founded.
The documentary also profiles the important and vital role the Sisters of St Joseph have played and continue to play in education, welfare, pastoral care and community development across regional and rural Australia and throughout towns and cities across the world.
According to Nerida Tinkler RSM, President of the Institute of Sisters of Mercy of Australia, who says she was "privileged" to attend the premiere, the documentary is a well balanced portrayal of the story of Mary MacKillop and the Josephites, and the current expression of their distinctive charism.
"Congratulations to the Sisters of St Joseph, their associates and Albert Street Productions on this wonderful production!"
Copies of the DVD are available for purchase for $29.95 at the Mary MacKillop Museum Shop at North Sydney and at Mary MacKillop Heritage Museums and Heritage Centres across Australia.
The release of the DVD follows the recent launch of a new website about Mary MacKillop produced by Fraynework Multimedia.
According to the developers, this official website offers users a highly interactive and exciting journey into the life and legacy of Australia's first saint and one of the country's most interesting women. It features never-before-seen images of Mary MacKillop, readings of her final letters and virtual tours of Mary's tomb and her last home – Alma Cottage.

According to Annette Arnold RSJ, who worked closely with Fraynework, the website makes Mary and her story accessible to all people regardless of where they live and regardless of their religion.

Check out the website at www.marymackillop.org.au