Archived News Item
New book on Mercy Sisters in PNG
April 2, 2008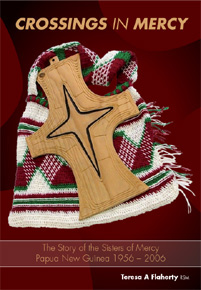 A new book which traces the involvement of the Sisters of Mercy in Papua New Guinea (PNG) since their arrival in 1956 until 2006, will be launched on April 17.
Written by Adelaide Sister Teresa Flaherty RSM, Crossings in Mercy: The Story of the Sisters of Mercy Papua New Guinea 1956-2006, has been published by the Sisters of Mercy, PNG Region and will be launched by Institute President, Sister Nerida Tinkler, during the Institute Plenary Council Meeting (IPC) in Rockhampton.
Having spent many years ministering PNG, Teresa is well placed to write this text.
Congratulations Tess on your dedication to and completion of this book which will be a great resource for us all!
Copies of the book will be available for purchase after the launch from Congregation Offices.
The table of contents follows to give readers a sense of what is included in the book.
CONTENTS

1. FOUNDING LINKS WITH IRELAND AND AUSTRALIA
Catherine McAuley in Nineteenth Century Ireland
Ursula Frayne Crosses the Oceans to Australia
Australian Mercy Sisters Mobilised for Mission in New Guinea
2. CALLED TO THE UNKNOWN
Papua and New Guinea: Peoples of Ancient Melanesian Cultures
A Glimpse Ahead (1956-2006)
3. UNION MERCY SISTERS TO GOROKA – 1956
From Canberra to the Goroka Diocese (1956-)
Across the Daulo Pass to the Simbu (1963-1990)
Called Back to Goroka (1974) – A Second Wave
A New Community in Goroka (2003) – The Third Wave
4. FEDERATION SISTERS TO WEWAK – 1957
Brisbane Mercy Sisters to Kunjingini in the Wewak Diocese (1957-)
Queensland and Grafton Sisters to the Sepik Swamplands of Torembi (1958-1974)
5. 1960s WEWAK CROSSINGS
From Australia: Rockhampton Mercy Sisters to Yangoru (1963-1982)
Brisbane Mercy Sisters to Ulupu (1963-1976)
Brisbane Mercy Sisters to Yarapos (1966-)
Brisbane Mercy Sisters to St Benedict's Teachers College, Kaindi (1969-)
6. WEWAK CROSSINGS FROM 1970
From Australia: Townsville Mercy Sisters to Negrie (1970-1980)
Brisbane Mercy Sisters to Kairiru (1970-1993)
Brisbane Mercy Sisters to Drekikir (1979-1992)
Wewak Ministry Crossings (1970s and 1980s)
7. NORTH SYDNEY MERCY SISTERS TO PUMAKOS, ENGA – 1965
To Pumakos, Enga, in the Mount Hagen Diocese (1965-1994)
North Sydney Mercy Sisters Cross to Holy Trinity Teachers College, Mount Hagen (1968-)
Other Mercy Sisters Called to Mount Hagen Diocese
8. THE AUSTRALIAN CONFERENCE OF THE SISTERS OF MERCY TO AITAPE – 1977
Temporary Task Force to the Raihu Hospital in Aitape Diocese (1977-1992)
9. BEYOND ORIGINAL BOUNDARIES: THE CALL OF A NATION
The Sisters of Mercy spread to other dioceses.
Archdiocese of Port Moresby
Archdiocese of Madang
Archdiocese of Rabaul – Keravat National High School
Diocese of Bougainville
Diocese of Daru-Kiunga
10. WEAVING A BILUM OF PNG MERCY
Unity and Autonomy: Creating a New Design
Mercy Administration Centre – McAuley House
Catherine's Melanesian Daughters – Crossing Strands
Christ's Mission of Mercy and Justice – Extending the Bilum
APPENDICES
1. List of Mercy Sisters who Minister(ed) in PNG
2. Events that Shaped the Period 1956-2006 in Government and Catholic Church.
3. Mercy Foundations/Communities from Australia to PNG and within PNG.
4. From a Lay Missionary's Diary – Anne Flaherty
Messages to: Sister Bernadette Marks RSM (Local Communications Facilitator, Adelaide)