Archived News Item
New book about women trafficked to Australia
July 22, 2008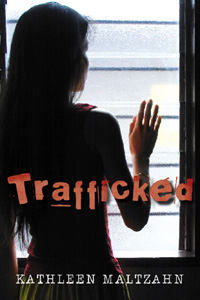 Did you know that hundreds of women are smuggled into Australia each year to work in the sex trade? The Institute's Specific Issues Committee, Women and Poverty alerts all people of good will to the recently released book Trafficked, by Kathleen Maltzahn. Kathleen is well known for her work in supporting women who have been trafficked and for endeavouring to ensure that the issue of trafficking of women be addressed.
Trafficked tells the story of a rare human rights campaign that succeeded in changing government policy to protect hundreds of women smuggled into Australia each year to work in the sex trade.
Puongtong Simaplee's death at the Villawood Detention Centre in 2001 put the issue of trafficking for prostitution in Australia on the national agenda for the first time. Trafficked contains first-person accounts of women like Puongtang, stories that inspired women's groups in 2003 to make sure trafficked women could no longer be ignored.
Author, Kathleen Maltzahn has been directly involved in these battles to change government approach to the problem. She goes beyond the myths of the sex industry to reveal the experiences of real women trafficked to Australia under false promises of paid work and forced into underground prostitution with no means of escape or legal rights.
With passion and insight, Trafficked charts the campaign that forced the Howard government to act, and forwards ideas for the new Federal Government to end trafficking.
Kathleen Maltzahn is founding director of Project Respect, an organisation working to end violence against women in the sex industry. She is a frequent media commentator on the trafficking of women.
Trafficked is published by UNSW Press.
From: Specific Issues Committee, Women and Poverty (Sisters Leonie Crotty, Miriam Grech, Angela Reed, Anne Ryan). The Committee warmly invites your response to the article or the issue.
Email: women.poverty@mercy.org.au

Contact: Carmel Heagerty RSM, Institute Justice Co-ordinator
Email: Institute.Justice@mercy.org.au