Archived News Item
Nearly 92 but still looking for something to do!
March 15, 2007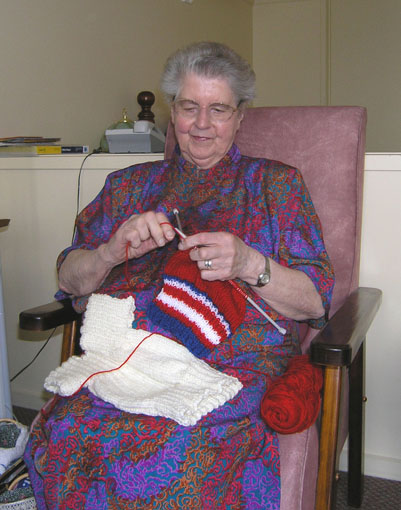 Sister Anne Gargan might be turning 92 soon, but that hasn't deterred this Ballarat East Sister of Mercy from finding a cause, responding with enthusiasm, and encouraging others to get involved.
Sister Anne recently discovered a "knitting circle" for newborn babies in Africa who have been diagnosed with AIDS. These babies are often sent home from hospital with insufficient clothing. In fact, it's been reported that many are sent home wrapped in newspaper for warmth.
Having seen the "knitting circle" group advertised, Sister Anne rang the organisers to check out their credibility, and having received copies of the simple pattern for a jumper to be knitted in eight-ply wool, she commenced work.
But not only has Sister Anne started knitting, she is also inspiring others to take up the task. So far, 20 other people have joined her.
The jumpers are transported to Africa by Rotary, and while 1,000 have already been sent, many more still needed.
Sister Anne would welcome more knitters to the "˜Mercy' branch of the "knitting circle"!
For more information contact Sister Marie Davey RSM, email rsmdavey@netconnect.com.au