Archived News Item
NAIDOC – 50 Years: Looking Forward, Looking Blak
July 5, 2007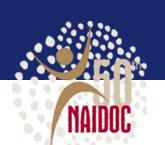 NAIDOC week has taken its name from the acronym for the original "˜National Aborigines and Islanders Day Observance Committee' which was once responsible for organising national activities.
NAIDOC has its origins in the fight for Aboriginal rights that began to gather pace in the 1920s and 1930s. In those years, organisations such as the Australian Aborigines Progress Association, the Australian Aborigines League, and the Aborigines Progressive Association were established to draw attention to the living conditions suffered by Aboriginal people and their lack of citizenship rights.
In 1937, activists William Cooper and William Ferguson joined forces to plan a "˜Day of Mourning' for January 26, 1938, the 150th anniversary of British settlement of Australia. Around 1000 Aboriginal people attended a conference on that day, and the following week a deputation presented the Prime Minister with a proposed national policy for Aboriginal people. (This was rejected because the Commonwealth then had no constitutional responsibility for Aboriginal affairs.)
Cooper also wrote to the National Missionary Council of Australia (NMCA) seeking its support in promoting a permanent annual Aborigines Day. From 1940, the NMCA encouraged churches to observe the Sunday before the Australia Day weekend as "˜Aboriginal Sunday'. In 1955, the NMCA changed the date to the first Sunday in July.
In 1957, a National Aborigines Day Observance Committee (NADOC) was formed with support and co-operation from Federal and State Governments, the churches and major Indigenous organisations. Its aim was to promote Aboriginal Sunday as a day to focus community attention on the nation's Aboriginal people.
After the 1967 Aboriginal Referendum and the establishment in 1972 of a Federal Department of Aboriginal Affairs, the national focus on Indigenous issues increased significantly. In 1974, NADOC became an all-Indigenous committee, and in 1975, extended Aboriginal Day to National Aborigines Week.
In 1985, NADOC agreed to change the dates of the week from July to September, and in 1988, the committee's name was changed to NAIDOC – National Aborigines and Islanders Day Observance Committee – to acknowledge Torres Strait Islander people.
In 1991, the committee decided to shift the celebrations back to the first week in July (Sunday to Sunday) starting from 1992.
The committee was wound up in the mid-1990s when the Aboriginal and Torres Strait Islander Commission (ATSIC) assumed control of NAIDOC Week, making decisions on the theme, venue and poster.
In 2005, an interim committee was set up in South Australia to co-ordinate National NAIDOC celebrations in Adelaide. Since 2006, Indigenous leader and former Senator, Aden Ridgeway has been the chairperson of the national committee. He was given the role as NAIDOC's custodian in 2005.
The week is celebrated not just in the Indigenous community, but also in increasing numbers of government agencies, schools, local councils and workplaces. http://www.naidoc.org.au/history/default.aspx
REFLECTION:
§ What are some significant aspects that can be celebrated from the history and survival of Aboriginal and Torres Strait Islander people?
§ What are some significant aspects that can be celebrated from culture and other achievements of Aboriginal and Torres Strait Islander people?
§ Having read the history of NAIDOC week what issues arise for you as you reflect on this in the light of the past weeks' events and the government's actions?
§ What do you understand as the "˜gospel' approach to this complex and urgent / ongoing situation?
§ As we approach NAIDOC week – a week for action – what can we Mercy women do to assist Aboriginal and Torres Strait Islander people in their local communities?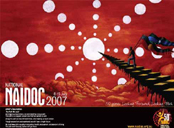 RESOURCES:
Tyeli Hannah is the winner of the 2007 NAIDOC Poster Competition (pictured right). Tyeli is a graphic designer for VIBE Australia, an Indigenous media company based in Sydney. For information on this poster see:
http://www.naidoc.org.au/award_winners/poster/poster_win07.aspx
To order poster see:
http://www.naidoc.org.au/awards/poster_request.aspx
Liturgy Resources for Aboriginal and Torres Strait Islander Sunday: National Aboriginal and Torres Strait Islander Catholic Council http://www.natsicc.org.au/Documents_resources/NATSICC_Lit%20_Resources_2007.pdf
From: Specific Issues Committee, Indigenous Concerns (Sisters Liz Rothe, Rose Glennen)
The Committee warmly invites your response to the article or the issue.
Email: indigenous.concerns@mercy.org.au
Contact: Carmel Heagerty RSM, Institute Justice Co-ordinator