Archived News Item
My Time at Baggot Street
October 28, 2013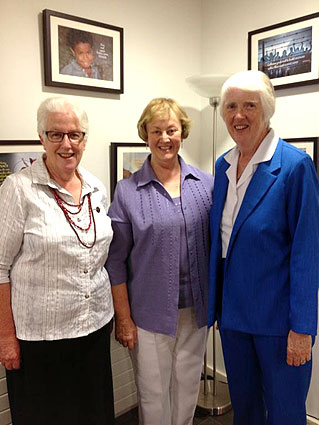 What a privilege to spend 3 months living and working in the house that Catherine McAuley built in Baggot Street, and the house that is now home for the Mercy family throughout the world.

Baggot Street is a place of pilgrimage and renewal for Sisters, Associates and friends of Mercy and I met many wonderful and inspiring people during my stay. We were all deepening our knowledge and love for Catherine by walking where she and the early sisters had walked, lived and died. Visitors arrive most days to take tours of the house including the Chapel, the room where Catherine died, her grave and the garden where 49 Sisters are buried.
As a volunteer I was able to meet and welcome B&B guests arriving for their stay in the house. As my family knows, I'm a talker, so found this a very pleasant duty! Volunteers also prepare breakfasts at the weekends and do general dining room work, help out in the shop as necessary, show visitors through the house, look after day to day shopping, lock up in the evening and be on call several nights a week and generally just help out wherever needed. Most days there is a request for a cuppa and a sandwich for a visitor at the front door. I was surprised by the number of people sleeping rough and begging in the streets.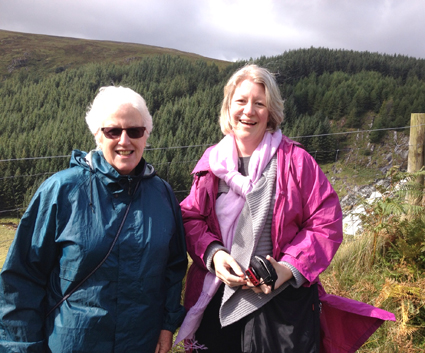 It was wonderful to experience Mercy Day at Baggot Street and to take an active role in the liturgy.On days off I was able to visit many places of interest around Dublin and to travel further afield to historic sites and view the wonderful scenery of this lovely country.
I feel very privileged to have had this experience of spending time in Catherine's House and thank those who made my stay such a happy one.
Messages to Anne O'Connell
Photos:
Left: L-R: Anne, Sylvia Williams rsm (MIA & ISMAPNG), Tricia McDermott rsm (ISMAPNG)
Right: Anne & Ali Roach (ISMAPNG) in the Wicklow Mountains