Archived News Item
Music giving young Indigenous people life and hope
June 3, 2009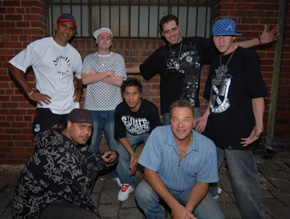 Find out about an innovative music programme in Victoria that is addressing disadvantage and high suicide rates among young Indigenous Australians. An initiative of Fraynework Indigital Centre, the programme is proudly supported by Mercy Works Inc.
Indigenous Australians experience greater levels of disadvantage than non-Indigenous Australians. As a result, they are at a higher risk of suicidal behaviours and self harm. Suicide rates among the Indigenous population are significantly higher than the general Australian population, and young Indigenous males are most at risk.
But an innovative music programme in Victoria is addressing some of these issues and providing hope for young Indigenous people and their communities.
For 24 year-old Casey Atkinson and his colleagues at the Fraynework Indigital Centre in Melbourne, suicide has a personal face. In 2005, the suicides of two teenage cousins of Indigenous trainees at Fraynework triggered the birth of the Indigital Centre.
"The Centre began as a result of tragedy but has been created for positive outcomes," says Casey.
Combining the talents of Indigenous and non-Indigenous staff, the Indigital Centre uses multimedia and the arts to give Indigenous people a voice in the community and opportunities for skill development.
An Indigenous musician originally from Shepparton, Casey co-ordinates the Indigital Music Programme, one of five complementary programmes delivered by the Centre.
With support from Mercy Works Inc., this programme uses music workshops and a community engagement strategy to address suicide, disadvantage and disengagement among Indigenous young people in regional, rural and city areas of Victoria.
It also aims to further reconciliation between Indigenous and non-Indigenous peoples through the creation and performance of new works of music.
The programme is open to anyone over the age of 13, but most participants are young males between 14 and 18 years.
During the workshops participants write and record music, but as Casey points out, you don't have to be a musician.
"For some it's trying something they may not have experienced before," he says.
The most important aspect of the programme, Casey explains, is giving young people an outlet to express themselves positively rather than bottling up emotions or resorting to drugs and alcohol.
Casey believes the programme is making an impact. It is building self confidence and pride in young Indigenous people and also developing their skills.
He recalls the words of Mr Morgz, a young Indigenous man recently released from prison: "Having access to the Indigital studio has been a positive influence in my life since getting out. It's kept me on the right track."
Casey speaks glowingly of the support received from Indigital's parent company Fraynework Multimedia, and in particular, the guidance and commitment of Melbourne Sister of Mercy, Adele Howard. He describes them as a "blessing" and "integral to the programme".
Mercy Works Inc. is proud to be supporting the Indigital Music Programme.
Photo credit: Fraynework Indigital Centre