Archived News Item
Moving forward together trusting in God
March 10, 2010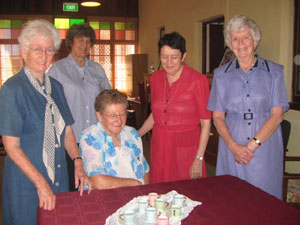 Marie Fitzgerald RSM, newly elected leader of the Perth Sisters of Mercy, reflects on the vision statement that delegates endorsed at the congregation's chapter held between November 28 and December 3, 2009.
While the vision statement appears to be very short, it is an authentic summary of the richness of the feedback of the delegates. The key discussion point was around moving forward always with a sense of LIFE, the foundation being Catherine's reliance on Divine Providence always in mind.
"Credible" was a word that appeared so often in the conversations – being an authentic mercy women in today's world and at the same time having the courage to move into the future.
Whether it is in ministry, facing our own health issues, effects of climate change, the future of our way of living, the conversation was always out of a deep sense of faith.
Our vision statement:
"Moving forward together trusting in God's Providence…
being a credible sign of God's love
having the courage to face what is unknown and hidden
bringing hope and joy to our world."
From: Marie Fitzgerald RSM (Congregation Leader, Perth)