Archived News Item
MORE REASONS TO CELEBRATE
June 1, 2015
On Saturday 16 May 2015, Our Lady of Good Counsel Chapel in Rockhampton was filled to capacity as family, friends, priests and Sisters of Mercy gathered to celebrate the Jubilee of six Sisters. Monsignor John Grace VG presided at the Eucharist which was concelebrated with local priests. At the commencement of the celebrations, Northern Community Leader, Bev Strong, welcomed everyone and following the Liturgy of the Word, Institute Leadership Team member, Theresia Tina, presented candles to each of the Jubilarians, prior to all Sisters of Mercy renewing their Vows.
The Jubilarians were Sisters Mary Moynihan and Maria Goretti Healy, professed in Rockhampton on 23 January 1955 and celebrating their Diamond Jubilees of Religious Profession and Sisters Anne Slattery, Marie Riddel, Brenda Moss and Desma Clarke, professed in Rockhampton on 6 November 1965 and marking their Golden Jubilee of Religious Profession.
In his homily, Monsignor Grace, making reference to the Apostolic Letter of Pope Francis to mark the introduction to the Year of Consecrated Life said: "The Pope encouraged all Religious to 'wake up the world by showing that God is able to fill hearts to the brim with happiness; that we need not seek our happiness elsewhere'. This morning, we herald six Sisters whose record of service to the Church mirrors and exemplifies that inspiring thought of Pope Francis. Throughout their respective ministries in Education, Nursing and Welfare, these Sisters have covered the broad field of human need by distinguishing themselves with excellence, with a combined record of three hundred and twenty years. There is only thanksgiving ringing in their hearts this morning; not only in theirs, but also in ours, their witnesses. Pope Francis listed the aims of Religious Life as looking at the past with gratitude; living in the present with passion; and embracing the future with hope. None of the Sisters has closed the door to these precious realities – gratitude, passion and hope. Our prayer is that they never will."
Following the Eucharist, the Sisters and invited guests enjoyed a luncheon where further tributes honoured the Jubilarians.
We offer a sincere and heartfelt 'Congratulations' to Mary, Maria, Anne, Marie, Brenda and Desma whose gifts have enriched the lives of many people in our Diocese and in those more distant places (Pakistan and Papua New Guinea) where they have witnessed to Gospel values and a Mercy way of life.
Messages to Joanne Molloy RSM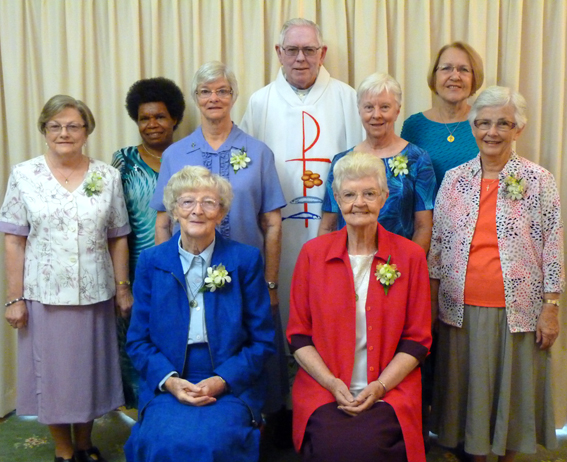 Back row: Theresia Tina (ILT Member), Mons J F Grace VG, Bev Strong (Northern Community Leader)
Middle row: Brenda Moss, Anne Slattery, Marie Riddel, Desma Clarke (Golden Jubilarians)
Sitting: Mary Moynihan, Maria Goretti Healy (Diamond Jubilarians)