Archived News Item
Mission of Mercy*
November 9, 2006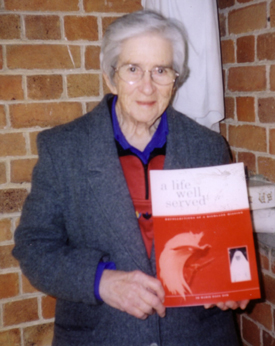 Can you imagine the trepidation of a young nun embarking on missionary life in a wild, culturally diverse country in the mid 1950s? Sister Marie Dagg RSM [Singleton Congregation] relates her story in striking detail. She tells of her total faith and trust, the challenges, pleasure, joy and deep friendships that were forged. She recounts the incredible adjustments that she and her three fellow ground-breaking Mercy sisters had to undergo.
Sister Marie has recently published her memoirs, A Life Well Served – Recollections of a Highland Mission. The book gives an "absolute true", account of their lives, establishing a school, living and teaching for many years in the village of Faniufa, near Goroka in the Highlands of Papua New Guinea (PNG).
"I am the only surviving member of the pioneer group of four sisters. I wanted to share what my experience of being a missionary for 22 years in PNG was like."
Sister Marie answered a call from Mother Superior for volunteers to establish a mission in PNG. She had never thought about missionary work, "but something kept telling me to volunteer." She responded, and "on December 3, 1955 I received word that I had been selected." Life took a dramatic turn.
An incredible journey commenced for these four intrepid nuns. In January 1956, she first met her fellow "˜travellers' in Sydney, and after just one week's orientation, they flew into Port Moresby, still in their heavy black habits. Later that day in Madang they were fortunate to be able to change into light, white habits.
Sister Marie's story of her years in PNG is very frank; a graphic insight into the bureaucracy, privation and complexity they had to overcome almost on a daily basis. At the same time, she demonstrates the great love she developed not only for the people, but also her adopted untamed and beautiful land. The book is punctuated with photographs of the nuns; Sister Marie could surely have invented the term multi-skilling.
Due to ill health, Sister Marie returned to Australia in 1984. She describes her homecoming as, "The hardest thing in my life. Returning missionaries find "˜re-entry' so hard, no one knows how we feel." She continues, "The mission field was as wide as the wide world. I felt suddenly cut off from the people and land that I had grown to love."
This year marked the Golden Jubilee of the arrival of the original four Sisters of Mercy at Goroka. Sister Marie was invited to return for the celebrations. In April she was triumphantly welcomed home. She described in an astonished voice, "It was unbelievable, the love those people had; they wanted me back in Goroka to celebrate with them."
She described the joy of seeing again her precious land, of meeting her ex-students and old friends. "I nearly died when I saw the crowds at the airport, they lined the streets, it was amazing." The next morning, a police car escorted her to the school that she had established almost fifty years before. "When we arrived, there was music and dancing, with about two thousand people waiting, and two policemen escorted me through a guard of honour." The school has expanded considerably. At the time of her departure there were about 400 pupils, today there are over a thousand.
Now in her early eighties, Sister Marie continues to be involved in the Singleton parish as a Special Minister of Communion to the Sick. She retains a wonderful sense of humour and an unfathomable gratitude to the Lord and Mary for the countless blessings she has received throughout her life.
Writing her memoirs has brought great pleasure to Sister Marie. She has proven that missionary work was definitely far from glamorous. The profound faith and sheer determination of these awe-inspiring pioneer women deserve our greatest admiration. They smoothed the path for many more who have followed in their courageous footsteps.
A Life Well Served – Recollections of a Highland Mission is available for $20 from the Singleton Convent of Mercy, phone (02) 6572 1411.
*This article, written by Trish Bogan, appeared in the November-December issue of Aurora, the Diocese of Maitland-Newcastle's bi-monthly publication. It is reproduced here with kind permission from the editor.
Photo Caption: Sister Marie Dagg RSM with a copy of her memoirs.
Any messages to: Sister Margaret Sinclair RSM (Local Communications Facilitator, Singleton)