Archived News Item
MINISTRY SUPPORTING MINISTRY
February 8, 2016
One of the best kept secrets in the world of ISMAPNG is the growing relationship developing between Mercy Associates groups and Mercy Works. There are almost twenty Mercy Associates groups around Australia, and as well as meeting for prayer and fellowship, they also reach out and serve others. Many groups are active in their local community: visiting the sick, helping St Vincent de Paul locally, etc. but also, their service involves reaching out beyond their local community. Around Australia, Mercy Associates undertake fund-raising activities in a variety of ways and for most of these, the money raised is donated to Mercy Works. In the period July 2014 to July 2015, $10,400 in total was raised for Mercy Works by Mercy Associates groups – a remarkable achievement.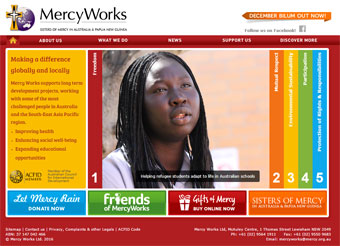 One prime example of fund-raising for Mercy Works involves the Tuart Hill Mercy Associates group in Perth, which has held an annual fund-raising luncheon for over 15 years. Their 2015 luncheon was held in October at Ruby's in Tuart Hill and almost 100 people attended. The generosity of the café allowed ticket prices to stay low and left guests with spare dollars to buy raffle tickets and bid at auctions during the function to raise funds for Mercy Works. Prizes were donated by Mercy Associates and suppliers of Catherine's House of Hospitality. The highlight of the 2015 prizes was a selection of children's toys hand-made by a supporter in his 90's!
There are many organisations that undertake work with those who are disadvantaged, but the appeal of Mercy Works to Mercy Associates groups is that Mercy Works is a ministry conducted through ISMAPNG, so they have a sense of connection with the values and objectives of the organisation. Because Mercy Works also provides details of the programmes it has underway and where these are based, Mercy Associates groups know exactly how their donations are being used.

Mercy Works Executive Director Ailsa McKinnon values the relationship that has evolved over time with Mercy Associates groups: 'Catherine McAuley had a great capacity to connect people with each other. At Mercy Works we depend on the generosity of people who are inspired by Catherine's vision. Thanks to her, Mercy Works and Mercy Associates groups are working together for the good of some of the most displaced people in our world today. Thank you Mercy Associates.'
For more information on Mercy Works visit their website HERE

Messages to: Carmel Ross, Mercy Associates Executive Officer