Archived News Item
Mini Mercies Celebrate Five Years
April 30, 2018
A very special event for the Mini Mercies from Mercedes College was held on Tuesday April 10 at the Mercy Heritage Centre Perth. The group celebrated five years of commitment to learning about Catherine McAuley and the Sisters of Mercy, which included after school sessions at the former Convent of Mercy, Victoria Square.
The event was organised by teachers, Tania Merrey and Rosemarie Wiley, along with the Mini Mercies committee members. The students had spent an afternoon with curator Annie Medley learning about the different rooms in the former convent and how to be tour guides for their families and friends on the day.
A delicious high tea was held in the College's Conference Centre for families of the Mini Mercies, followed by a tour of the Mercy Heritage Centre Perth. Five Mini Mercies were stationed in the various rooms to answer questions, share their knowledge and generally assist visitors. The room guides were supported by heritage centre volunteer Mrs Jean Jones and staff member Daljeen Jassal.
The event was attended by about 70 parents and grandparents of the Mini Mercies and several Sisters of Mercy. It was wonderful to watch the students walk their family members through the building and answer questions they had about the place. A family visiting from Chile were very impressed with their guide's knowledge of the rooms.
A mother and daughter took turns playing the piano in the Music Room to the enjoyment of visitors. Sisters Breda O'Reilly RSM, Joan Kelleher RSM, Josephine Dillon RSM, Margaret Tallom RSM, Florence O'Sullivan RSM, Mollie Wright RSM and Pauline Masters RSM attended. Sister Pauline was delighted to see photographs of herself on the heritage centre's projected photographic collection in the community room and many other visitors stopped to look at the photographs. Sister Margaret enjoyed "talking" to the statue of Ursula Frayne on the front verandah.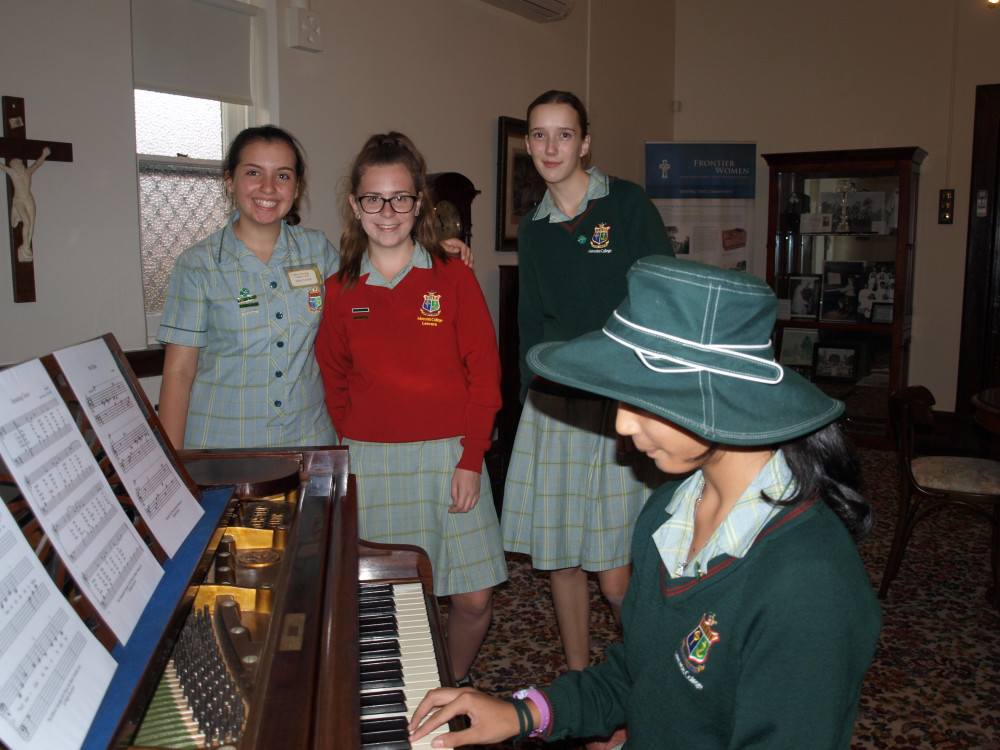 At the end of the visit, many guests signed the visitors' book for Mini Mercies. One mother commented that she was glad she came because now she knows what her daughter does at Mini Mercies. Many visitors commented that the convent was a  very beautiful and peaceful place to visit.
Messages to: Annie Q. Medley, Mercy Heritage Centre Perth or 08 9325 4155