Archived News Item
Mid-year edition of LISTEN available
July 16, 2010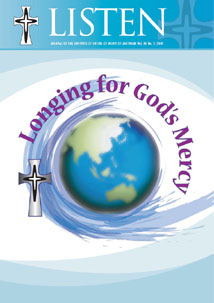 The mid-year edition of LISTEN, the journal of the Institute of Sisters of Mercy of Australia, is out now. This edition explores the theme of the forthcoming Institute chapter, "Longing for God's Mercy".
Contributors are Sisters of Mercy: Kathleen Williams, Valda Dickinson, Trish Fitzsimmons, Mariska Kua, Maryanne Kolkia, Patricia Wood, Kerry Gordon, Patricia Weekes, Trudy Keur, Breege O'Neill, and Monsignor Kevin Long.
The cover artwork, which depicts the logo and theme of the Sixth Institute Chapter, was designed by Anne McMillan RSM (Ballarat) and is reproduced here with gratitude.
EDITORIAL

As this issue of LISTEN is being composed, sisters throughout the Institute of Sisters of Mercy of Australia are earnestly preparing for our chapter to be held in Sydney later in the year.
Sisters of Mercy worldwide are familiar with the reality of chapters. We know they can be wonderfully inspiring events committing us, yet again, to obeying the Gospel imperative in the ever-new way of Catherine. Often too, they give us the opportunity for profound sharing of faith and trust, for celebrating the "union and charity" of our sisterhood with the sort of grateful cheerfulness which Catherine so often recommended. Yet we also know that chapters can sometimes be hard experiences, palled by less than worthy aspects of our humanity, or burdened by an agenda so laden that creativity is stifled by fatigue.
This chapter's theme is "Longing for God's Mercy" and the hope is that, as we in the Institute probe and ponder its meaning, we will come to new consciousness of the world's urgent need, and our own, for God's unconditional, life-affirming, reconciling love. This love, we know, is the heart of mercy because it is the heart of God.
In seeking contributions for LISTEN, I invited several sisters to write their reflections on "Longing for God's Mercy". "When you consider this simple phrase in relation to your ministry, your spirituality, your understanding of the world and its needs, what does it evoke in you?" I asked. Their generous, care-full and at times poignant responses, from a rich variety of perspectives, are offered here with the intention of enlivening your own contemplation on the theme.
If you are engaged in chapter preparation, may these reflections expand your thinking and enlighten your prayer so that the chapter itself will indeed be an inspiring, faith-filled celebration with its focus clear and sharp on things which truly are of God. And if you are not concerned with our chapter (LISTEN does have some friends from the wider Mercy world, and even beyond!), may they likewise excite your understanding and grace your spirit.
I am grateful to all who have enabled this edition of LISTEN and thank them warmly for their gracious co-operation. In particular, I want to acknowledge Breege O'Neill RSM for her permission to print part of the address she gave to the Leadership Conference of the Mercy International Association, held in Dublin recently. While I commend to you the whole of Breege's excellent paper, entitled "The Future of Religious Life" (see Mercy International website), it is her section about the dis-graceful elements of the 'Mercy story', as revealed in the Ryan Report, which I have chosen to publish here. These paragraphs are a compelling reminder that each of us is flawed and fragile; that each of us, through our unloving actions and attitudes, can cast a dark shadow of shame over ourselves and others. Yet it is in owning the truth of such darkness that we experience the precious gift of light which only God's redemptive mercy can enkindle.
Breege concluded with a short poem by Mary Oliver which captures that sacred irony, and so will I.
"The Uses of Sorrow"
Someone I loved once gave me
A box full of darkness.
It took me years to understand
That this too, was gift.
Blessings,
Caroline Ryan RSM (EDITOR)
Contributors
Longing for God's Mercy – Kathleen Williams RSM
Everything Dances to the Mercy of God – Valda Dickinson RSM
Opening to Other-Centred Consciousness: Becoming a River of God's Mercy – Trish Fitzsimmons RSM
"I Have Come That You May Have Life": A Mercy Response to Need in Papua New Guinea – Mariska Kua RSM, Maryanne Kolkia RSM, Patricia Wood RSM
A Magical Merciful Ministry – Kerry Gordon RSM and members of the "Magic House" community
The Call of the Needy: Our Point of Redemption – Patricia Weekes RSM
A Pastoral Carer Reflects on "Longing for God's Mercy" – Trudy Keur RSM
Our Mercy Story: A Story of Light and Shadow – Breege O'Neill RSM
"Never Stop Reminding Us of God's Mercy" – Kevin Long
Subscriptions: If you'd like to subscribe to LISTEN, the Institute's theological journal, published twice yearly ($25 per annum), contact Kathy Fuller at the Mercy National Centre on phone: +61 (0)2 9564 1911 or email: kathy.fuller@mercy.org.au
Would you like to write for LISTEN? If you are a writer, a poet, a theologian, a day-dreamer, or an artist, please contact the editor. If your preference is not to write, LISTEN can interview you and represent your ideas.
Contributions to be considered for the second issue of LISTEN in 2010 need to be submitted by Monday October 25.
Please send material to:
The Editor LISTEN
1 Thomas Street
Lewisham NSW 2049 AUSTRALIA
Phone: (02) 9564 1911
Email: caroline.ryan@mercy.org.au
As far as possible, writers are encouraged to use the Institute's style guide, which can be obtained from Kathy Fuller at the National Centre on Email: kathy.fuller@mercy.org.au