Archived News Item
MIA Season of Creation Calendar, 1 September – 4 October
August 31, 2017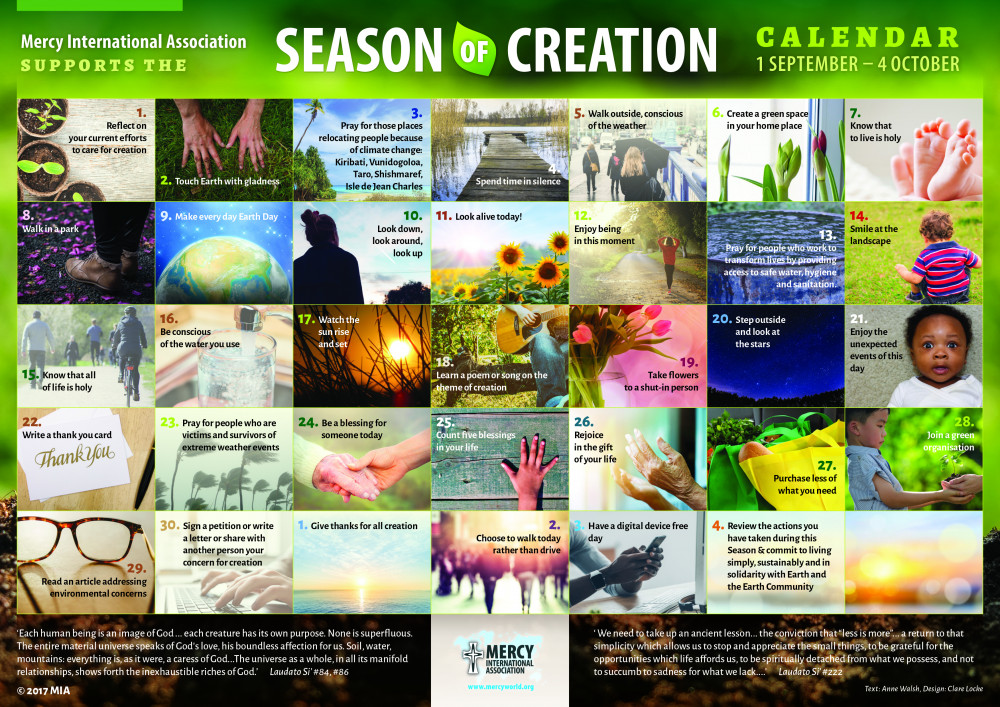 "We need to take up and ancient lesson… the conviction that "less is more"… a return to that simplicity which allows us to stop and appreciate the small things, to be grateful for the opportunities which life affords us, to be spiritually detached from what we possess, and not to succumb to sadness for that we lack…' – Laudato Si' #222. 
Mercy International Association has compiled a series of wonderful resources that will assist each of us to participate anew in this year's 'Season of Creation'.
One such resource is the MIA Season of Creation Perennial Calendar (pictured above). The Calendar supports the coming season by evoking reflection, acts of kindness and gratitude and deeds of advocacy during each of the 34 days.
The MIA Season of Creation calendar has been designed to be a perennial calendar so days of the week aren't assigned to a particular date. This means that the activities can be completed in any order, as best suits the user or user group.
You are invited to join with other people of Mercy around the world in coming up with useful and creative ways of bringing the calendar and season to life.
Perhaps you could take a leaf out of the book of a Mercy community of senior Sisters in Dublin, who are planning to print a  large version of the calendar and cut up the 34 days into individual squares. Members of the community will then be invited to choose a square each to act on for the Season. At the end of the Season, the community will share on their experience.
For more information please visit Mercy International Association.
Messages to: Anne Walsh – Communications Director MIRP
*All information has been sourced from Mercy eNews*