Archived News Item
Mercy young adults in Grafton
August 25, 2011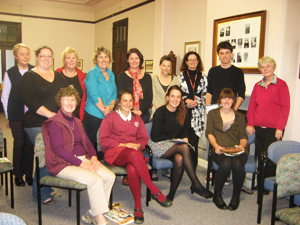 Recently a group came together at the Grafton Convent to work on getting a Young Adults group established. There were students from McAuley College and some adults from perhaps the next age group! They were keen to explore ways of continuing to bring Mercy to the local community where it is most needed.

Sister Barbara Bolster welcomed the group and introduced Gai Aitken who is coordinating the local effort. Others introduced themselves before getting to the business of the evening. Celebrate What's Right with the World, a 20min DVD, proved to be a great inspiration to all present and opened the way for some fruitful sharing. The younger people had good ideas and the less young were equally committed to getting involved in positive ways.
The group spent a little time getting to know something of what the Mercy website offers and found links to Mercy Works, the MIA site, Fraynework and other Mercy sites.
Before the gathering dispersed, each participant was offered leaflets about Mercy Works and publications from MGC. From the DVD, Celebrate What's Right with the World, cards illustrating key concepts had been made and these also were given to all present. The hope is that they will continue to draw on the inspiration found in the DVD and encourage those who use them to keep working for Mercy and Justice in our world.