Archived News Item
Mercy Works Update
November 25, 2011
Team Bilum to the rescue
With over 3000 copies of The Bilum to mail out with each issue, preparing the mail out could be a daunting task for the Mercy Works staff. Fortunately we have wonderful volunteers who come to our rescue to fill and address the envelopes ready for posting. This June, Year 9 students from Catherine McAuley Westmead were a lively and friendly addition to the Mercy Works team. Thank you girls, your help is much appreciated.
A real lift from Horizon Oil
Horizon Oil have been very generous supporters of Mercy Works Kiunga but their support is now reaching new heights – literally. In addition to their financial support, Horizon Oil are assisting our programme in Kiunga with helicopter transport. Already they've assisted a parish priest and worker to reach a remote parish in Nomad, reducing a 3 day walk from Kiunga to just a 30 minute flight. This has made a dramatic difference in our ability to support this very isolated community. Horizon Oil have also also helped by transporting a prayer leader's wife who was ill to Kiunga for treatment and then back to her community. Sr Maureen Sexton rSM said, 'our contacts at Horizon have been very accommodating each time we've approached them for help. Their genuine offers to assist are always followed on the ground.'
Mercy clinic gets over 460 visits per month
In the last issue of The Bilum we reported on the new health clinic in Pundibasa- Abunamo region in the Eastern Highlands of Papua New Guinea. Mercy Works helped build the clinic in partnership with the Diocese of Goroka. We're pleased to report that since opening, the clinic has been a great success. On a recent visit to see how the the clinic was operating, Sr Gaye Lennon, Mercy Works' Co-ordinator of Offshore and Indigenous Projects noted, 'it was great to see how well-attended the clinic was. Within a few months of opening it is already receiving 460-470 patients a month which is a great result. I was also impressed with how well kept the clinic and its area were – it showed great local pride.'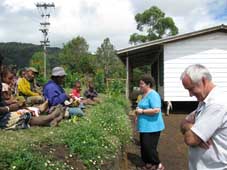 Sr Gaye Lennon talks to locals outside the clinic
The blessing of unity dwelling amongst us
The Western Australian Mercy Schools and the Western Australian Sisters of Mercy Congregations welcomed 150 delegates and 40 student delegates from Mercy schools across Papua New Guinea, New Zealand and Australia for the Tenth Conference at Santa Maria College Perth. The theme of the conference was 'the blessing of unity dwelling amongst us is the true spirit of Mercy flowing on us'.
Sr Gaye Lennon and Mercy Works' Development Officer Margaret Coulter attended from Mercy Works. At one of the forums, Gaye made a presentation: Where would desperation drive you? Insights from Mercy Works Goroka/Mt Hagen programme working with youth caught in child labour and juveniles and women in prison. Mercy Works also had a display stall where we were able to showcase our programmes.
From Mount Wilson to Mount Hagen, with love
On 13 October, 25 supporters of Mercy Works enjoyed a beautiful day out visiting two of Mt Wilson's most spectacular private gardens, Nooroo and Hawthorn and enjoying a delicious lunch at Hawthorne. A wonderfully lively group explored the exquisite gardens, made new friends and raised funds to support Mercy Works Goroka/ Mt Hagen programme through ticket purchases and generous donations. Our thanks go to Gillian Pembroke for opening Hawthorne and kindly hosting the lunch.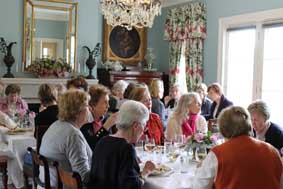 Friends of Mercy Works enjoying lunch at Hawthorne in Mt Wilson
Clubbing together in Sydney for Mercy Connect
We've been delighted by the continued support Mercy Connect Sydney receive from clubs in the areas where Mercy Connect Sydney operates. Not only does their help make a big difference to our work in helping refugee families adapt to life in Australia, but their support adds awareness of the many challenging issues faced by refugees. We thank the following for their kind support.
• Ashfield RSL Club ($4,000)
• Wests Ashfield Leagues ($4,000)
• Auburn RSL Club ($7,028)
• Club Ashfield ($2,000)
• Canterbury Bulldogs League Club ($16,867)
• Club Marconi ($25,769)
Capacity building in Kiunga
Mercy Works Kiunga has been engaged in the process of developing the skills of team leaders involved in our programme there. The four areas identified for raising skills are leadership and management, budgeting, personal development (issues such as self knowledge and anger management) and using the Mercy Works Tool Kit. A series of workshops has begun and more are planned. 'If we can strengthen the project team members and they can be confident about what they do, they are better able to pass on their learnings to the village leaders they work with,' said Sr Maureen Sexton.