Archived News Item
Mercy Works – responding to need
December 12, 2013
Mercy Works supports the local and overseas relief and development activities that are part of the vision and mission of the Sisters of Mercy of Australia and Papua New Guinea. The programs engage in partnerships with communities to promote justice, self-reliance and to support displaced people and communities who are denied access to basic resources such as education, health care and social welfare. Mercy Works Programs strongly endorse the principles of freedom, mutual respect, environmental sustainability, participation and protection of the rights and responsibilities of all.
In Australia, Mercy Works offers community education in world development concerns, provides assistance with refugees, and works in partnership with Indigenous peoples. Overseas, the primary focus is in the Asia-Pacific region, where, in collaboration with local partners, Mercy Works directs its efforts towards the education, health care, and social and spiritual well-being of those who are poor or displaced.
Following are two reports that show how Mercy Works responds to need and an opportunity for you to contribute to their on-going projects.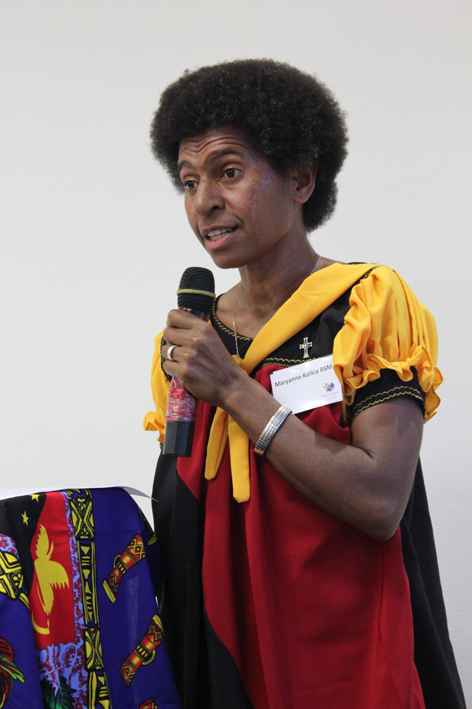 INSPIRING WORK: Maryanne Kolkia rsm addresses the Friends of Mercy Works
At a recent Friends of Mercy Works evening held in Sydney Maryanne Kolkia rsm, the Coordinator of the Mercy Works Goroka / Mt Hagen program, spoke of the many challenges that PNG faces and how Mercy Works is responding to them. She shared some encouraging stories of change from their work: one woman's joy at being able to open a personal bank account for the first time; and a Mercy Works trainer who has gone on to win a major contract for supplying vegetables.
However the most moving story of change that Maryanne shared was her own:
'Working in the Mercy Works program in Goroka has changed my life. Talking to the rascals and young women who sell sex and going to the settlement with a reputation for law and order problems for the first time was an eye opener for me. It changed my perspective about my people and their behaviour. A week's course organised by National Catholic Life was a starting point for me to begin a radio program. I am now confident, doing well and receiving positive feedback from the listeners.
'I feel privileged to be part of Mercy Works. It has been good for me, my family, my people and my country. My journey with Mercy Works is inspirational, life-giving and satisfying. My story with Mercy Works continues. It is our story.'
You can help people like Maryanne in her inspiring work by becoming a Friend of Mercy Works. The annual donation of $50 ($30 concession) is tax deductible. To find out more visit www.mercyworks.org.au
MERCY HOUSE OF WELCOME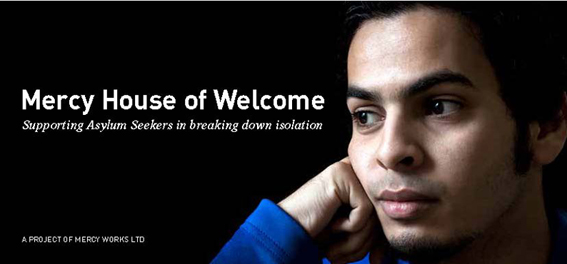 Isolation is a significant problem for many people, regardless of where they live, particularly if they are not surrounded by their familiar communities. As well as physical separation, isolation can be a result of social barriers and psychological factors. It can have far reaching consequences leading to depression, anxiety, low self-esteem and a crippling sense of inadequacy.

For asylum seekers in Australia, the sense of isolation can be profound. Bombarded with media messages that demonise them, they often struggle to adapt to life here. A new Mercy Works project in Adelaide aims to support asylum seekers and break down isolation. Based in Kilburn, Mercy House of Welcome is a place for asylum seekers to come together and receive support from trained workers and volunteers. There are 18 volunteers teaching English to clients and 5 offering general support, as well as a trained Lawyer supporting clients with Legal Advice.
Asylum seekers are not permitted to work or even to do voluntary work while they are on Bridging Visas. This means they have little or no opportunity to feel useful or to simply be 'doing' something constructive. We have approximately 15-20 clients daily but can grow to 22–45. So there is a huge need for this project.
We also offer budget counselling. The asylum seekers are given very little to manage on. Unused to a new country with different (and often very expensive) pricing structures they require guidance on how to make the most of what little money they have. We are also providing non-perishable foods at no cost to help their limited funds go further. As with all Mercy Works' activities at Mercy House of Welcome, we seek to fill the gaps left by other organisations and provide the services and support the people we are helping want, not what we think they might need. Over time, as the asylum seekers communicate their needs, we will try to help meet them.
Mercy House of Welcome has been operating since 8 October 2013 and is open four days a week from 10.00 to 4.00pm. Sr Alison Roach RSM is the Project Coordinator Mercy Refugee Services Adelaide. Alison has a strong background in social welfare and has previously worked with aboriginal communities and the homeless. We are always seeking more volunteers who should contact Ali Roach rsm on mwac@mercy.org.au or on 0423093032 for a Volunteers Application form.
Mercy House of Welcome is also seeking an Assistant Coordinator to work in the areas of administration and management of the activities operating in and associated with the House of Welcome project. Further details HERE.
An Opportunity to join the ministry of Mercy Works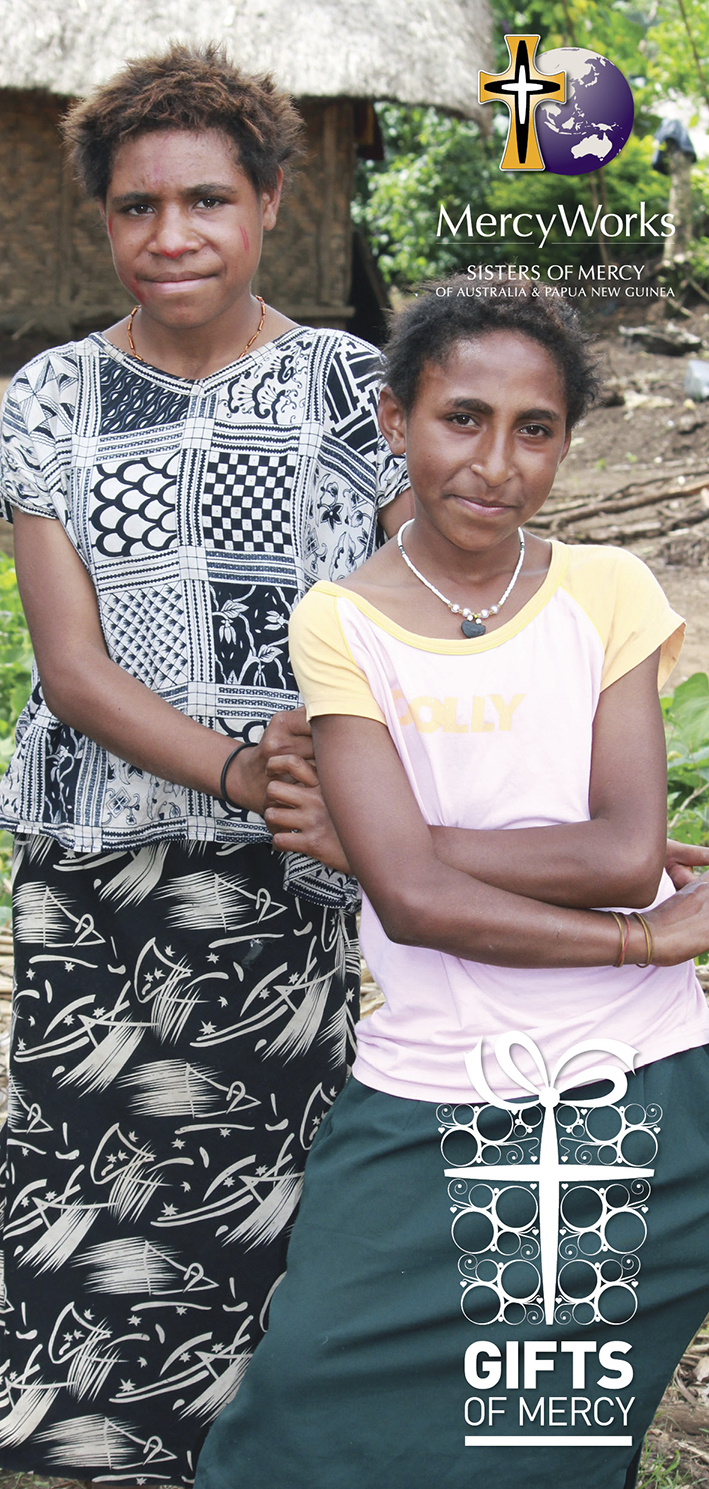 GIFTS OF MERCY – Show people you care for them and for those in need.

Looking for a gift for the person who has everything? Have you considered a Gift of Mercy greeting card?
By giving a Gift of Mercy, you are making a donation to one of Mercy Works' vital projects on behalf of a recipient. You'll receive a printed card explaining how your donation is helping a project. You can then send the card to your chosen recipient with a personal message. They are ideal for Christmas, birthdays, christenings, weddings or simply as a thank you gift.
There are a number of Gifts of Mercy to choose from, each supporting our work helping communities in PNG, Timor-Leste, Pakistan and Australia gain access to basic resources such as education, health care and social welfare.
Gifts of Mercy cost $25 each. All gifts to Mercy Works projects are fully tax deductible. There are six designs to choose from, order just one or the whole set!
To order your Gifts of Mercy you can:
Phone Mercy Works – (02) 9564 1911
Email Mercy Works – mercyworks@mercy.org.au
Call in to Mercy Works – 1 Thomas Street Lewisham NSW 2049
Download the Order Form HERE
and return by post to the address on the form or fax to (02) 9550 9683
Mercy Works
1 Thomas Street,
Lewisham NSW 2049 Australia
Phone: +61 (0) 2 9564 1911 Fax: +61 (0) 2 9550 9683
Email: mercyworks@mercy.org.au Website: www.mercyworks.org.au