Archived News Item
Mercy Works Inc. welcomes new team member
June 9, 2010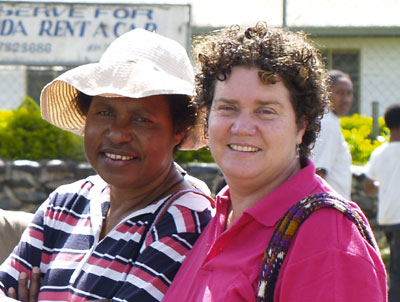 Mercy Works Inc.'s newest team member, Sister of Mercy, Gaye Lennon, began work in February this year as Co-ordinator of Offshore and Indigenous Projects.
"In this newly created role, Gaye will monitor Mercy Works Inc.'s projects in Pakistan, Timor Leste and Papua New Guinea, as well as co-ordinate the agency's Indigenous projects across Australia," explains Rosie Carroll RSM, Mercy Works Inc. Executive Officer.
"Gaye brings a wealth of experience to the position, having worked in Pakistan, Thailand and Papua New Guinea, and already has added a different flavour and energy to our staff."
Gaye is no stranger to Mercy Works Inc., having spent the past three years in Papua New Guinea (PNG) helping the PNG Sisters of Mercy to establish the Mercy Works PNG Project in Goroka and Mt Hagen.
"I hope that I can empower and enhance the capacity of local project leaders and teams to respond to the identified needs of their communities," says Gaye.
"There is such need in places where issues of poverty, lack of development and basic necessities create an atmosphere of fear, violence and tension. We have people working very hard in very difficult and trying situations and I hope I can give them the support they need to continue to respond appropriately," she adds.
Gaye loves working with people who want to change their lives. "The developing world attracts me," she reflects.
"I have learnt so much from those I've been with over the years. I have been challenged by the simple open-handed response of, for example, a woman in dire poverty to another woman suffering with her. I feel blessed to have shared the stories of their lives."
Since starting this year, Gaye has visited most of the agency's community development projects in Timor Leste and Papua New Guinea and was impressed with what she saw.
"All the money that our sisters, friends, donors and partners send makes a difference and I have been the one who has been privileged to see some of that difference in the making," she explains.