Archived News Item
Mercy Works Inc. joins Make Poverty History
December 3, 2009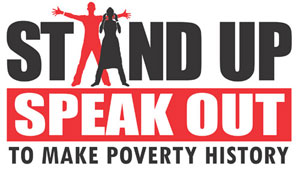 While Mercy Works Inc. has been a supporter of the Make Poverty History campaign, the agency is now a formal member of the Australian coalition.
Make Poverty History is part of the "global call to action" to end extreme poverty. In Australia, Make Poverty History is a nonpartisan coalition of more than 60 aid organisations, community and faith-based groups.
The coalition seeks to ensure the Australian Government creates policies that: guarantee more and better aid, debt relief, and fairer trade; help poor communities keep their governments accountable, tackle climate change, and honour commitments made to the Millennium Development Goals (MDGs), a global plan to halve poverty by 2015.
"Through our support of development projects in poverty-stricken communities overseas and in Australia, Mercy Works Inc. is already committed to making poverty history," says Mercy Works Inc. Executive Officer, Sister Rosie Carroll.
"But our formal membership of Make Poverty History strengthens the agency's commitment to poverty alleviation. By joining forces with other like-minded groups, our collective voices can make a greater impact in bringing about changes to systems and structures that contribute to poverty and injustice."